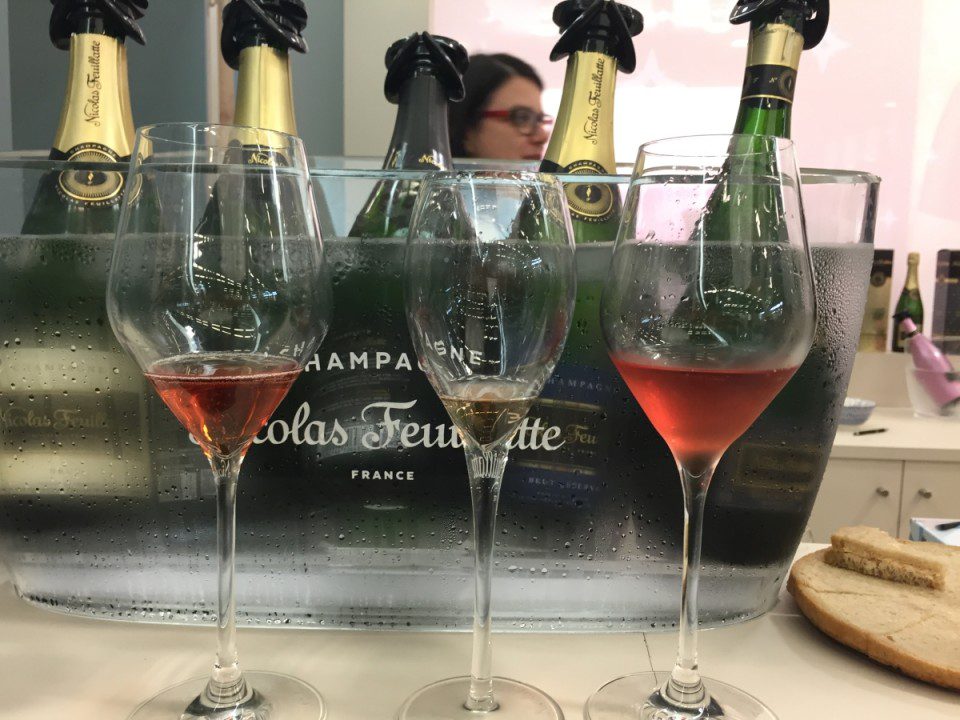 One of the prettiest, most perfect encounters I had during Vinexpo 2017 was the tasting of rosé champagnes
I love champagne. But I must confess there are times when I love rosé champagne more. While champagne itself exemplifies all things celebratory with all its mystery and excitement – the soft sigh of the popping cork, the delectably fruity aromas and the gentle eruption of bubbles on the tongue – a  rosé champagne takes it one step further.
Even should you not be a champion for the colour pink, the extra dimension of excitement that comes with champagne of this colour also creates an undeniable  frisson of excitement …
So, on my wanderings around the Vinexpo halls, I came across several pavilions housing champagne brands – from grand marques to boutique grower champagnes. Clearly too little time, too many champagnes! However, I stopped in my tracks, lured by the array of pinks adorning the stand of Champagne Nicolas Feuillatte. I decided to taste all three rosé champagnes on offer (the Brut Rosé, Cuvée 225 Rosé Vintage 2008 and the ultra-premium Palmes d'Or Rosé Vintage 2006). And to record a bit about them, much to the discomfiture of the young French lad behind the counter, who manfully put his best English-speaking foot forward. The result is in the brief video below.
For those who are wondering about how rosé champagnes are made, here are a few brief whys and wherefore.
The grapes used are still the three main official grapes of Champagne: Chardonnay, Pinot Noir and Pinot Meunier.
Champagne usually is pale golden because that is the colour of the flesh within the grapes. The common method of making rosé champagne is that a percentage of still red wine is blended into the golden sparkling wine to get the pale pink colour.
Another, less common method is known as the saignée method (the verb saigner means 'to bleed' in French) used to make still rose wines. In this process, the grape must (fresh pressed juice) is permitted to remain in contact with the skins for a brief period, allowing the natural pigments in the black (the two Pinots) grapes' skins to colour the juice and also add aromas and complexity that exemplify.
The first level of champagne is non vintage While the rarer, pricier vintage champagne (produced only in best years) is made from the grapes of only a single year's harvest, non-vintage champagneis a blend of different years' harvests. Rosé champagne and vintage rosé champagnes are higher in the champagne pecking order because of the additional costs involved in make them.
Rosé champagnes are regarded as the best food-friendly champagnes, because of their added complexity. They do brilliantly with some desserts as well!
You might also like