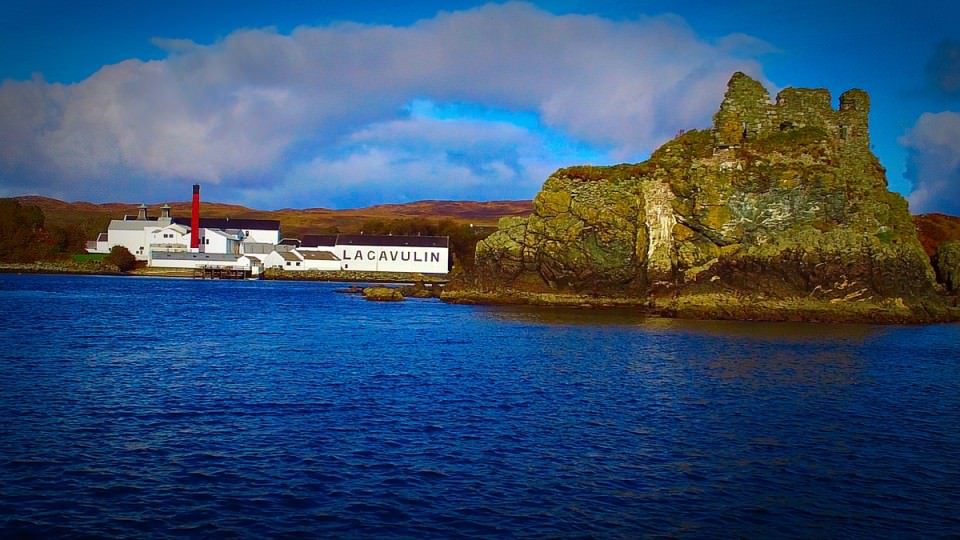 Diageo brand ambassador and Scotsman Donald Colville has a lyrical turn of phrase and a great love for his job – and good food
Donald Colville says he has the best job in the world – talking about the superstars from Diageo's classic malt whisky portfolio. All about malts and food pairings and punctuated by reminisces, quips and sips (he is funny and self-deprecating), our little tasting session lasts almost two hours.
Scotsmen no longer conform to the quiet, dour image that has been around for centuries, perish the thought.  I tell him that the Scotsmen I've met in the whisky world have been anything but dour. Indeed, Richard Paterson (aka @the_nose)is known for his ability to keep a room in splits. "Did he stun you with his confetti cannon?" he grins. Jokes aside, Colville says that the subject of Scotch single malts is inspiring. "Scotch has been around and been cool forever. I'm blessed to work with iconic whiskies of Scotland – I always want people to remember what they are."
On the table in front of us are the whiskies: the younger age statement lot – a bunch of teens and tweens with an awful lot of pedigree among them all  – Oban 14, Lagavulin 16 year old, Talisker 10 year old, The Singleton of Glen Ord 12 year old, and the Caol Ila 12 year old. "Individually, they personify why Scotland has such a range and diversity of flavours," says Colville. You tell me what you like so much about each one's personality, I say.
The Singleton of Glen Ord 12 years old
This one is a gentle giant, says Colville. "Before it was called The Singleton it was named Auchriosk, not too easy to pronounce when you walk into a bar," he chuckles. Glen Ord is specifically made and marketed for Asian drinkers, Singleton of Dufftown is for Europe, and Singleton of Glendullan for the US market. We take a sip. The liquid is golden, fruity yet elegant, matured 50/50 in European and American oak. "Perfectly balanced," nods Colville, "Not in a 'blow your socks off' kind of way, but a seasoned malt lover will find flavours to enjoy as would the first time drinker. There's a sweetness and well as fruit, but also a delicious nuttiness – like honey on toast." He offers me some honey coated nuts; the next sip develops rather nicely on the palate. "I do believe in drinking a single malt with food, but pairings mustn't be forced. Look at the sensorial perspective and then decide. It shouldn't be about flavor combinations but about the tasting experience. Life's too short to constantly analyse. Sometimes, 'yum' is a good reaction."
Pair it with: A veggie nut roast. Add a splash of soda so the bubbles cut through the richness of the nuts.
Oban 14 year old.
Oban, says Colville, is a small distillery in a pretty little fishing village. "The town grew with the shipping boom in 1794, and the distillery got hemmed in, so it can never be expanded. It is one of our smallest distilleries. As a whisky it's for someone who is on an experimental Highland journey." The tinge of orange with smoky malt and roasted figs makes for a delightful medley on the palate.
We are on a roll with the food pairings now. "Try the Oban 14 in a small cup with a clementine sorbet on the side. Pour in hot water, and sip with the orange sorbet. The sorbet enhances the orange notes in the whisky. Or, try chocolate. Chocolate is done to death with whisky but sometimes there is no better combination," he says, offering me a piece of dark chocolate with my Oban. "Try the amazing chocolate made by Iain Burnett of Highland Chocolatier. His Velvet Truffle chocolates are amazing and his hot chocolate comes as a solid block – he puts it into a Margarita slushy machine to liquefy. One sip of that and you will smile and see the future."
Talisker 10 year old
 I know from my own visit that there's something special about Talisker which brings devotees in droves to the tiny island of Skye ("the fourth most beautiful island in the world.") Ask the pros, and they say the 10 year old is the real deal. The distillery itself isn't too big, and visitor's centre is often overcrowded, but on the day I was there, there were clouds in the sky and a drizzle on the face, the waves were pounding the rocks at the head of the island beneath the distillery. You can see yourself sitting by the fire and sipping a Talisker right then.
The Talisker in a way, combines the best of the flavours of Scotland, the peat, the smoke, the salty coastal edge and the sweetness, says Colville. He recounts the romantic Bronte-style story of two brothers who are said to have rowed across the seas to the island of Eigg, next to Skye where they eventually set up the Talisker distillery in 1830. In honour of that tale, is the 3000 nautical mile-long annual Talisker Whisky Atlantic Challenge, where rowers battle the elements across the Atlantic from San Sebastian Spain to Antigua.
Colville likes to put the Talisker into the freezer and pour it straight into the glass. "This forces the sugar to the fore. Serve it with smoked salmon soufflé. The creaminess and warmth of the soufflé from the oven combined with the icy whisky is fantastic."
Caol Ila 12 year old
The distillery is situated on the south of the island of Islay, one of the first you see coming off the mainland ferry. Regarded as one of the most refined and approachable malts of Islay, otherwise noted for its smoky, peaty 'big boy' whiskies. Try the Caol Ila 12 with lemon cheesecake, advises Colville. The smoky, malty notes of the whisky go beautifully with the tartness of the cheesecake and its creaminess cuts through the smoke. "Try this," says Colville. "Pour freezer-chilled Caol Ila 12 into a chilled champagne flute and top with soda. It becomes a delicate, delicious highball – and people are stunned."
Lagavulin 16 year old
This one also from Islay is a paradoxical whisky, says Colville. "Soft and supple yet big and smoky. It is the smoky whisky that distillers themselves love. So complex that it is like you don't know that you are being slapped in the face by a beautiful woman. If I had to have one whisky in my collection –  and I'm asked this often – it would be a Lagavulin 16."
Food? "One of the best tasting experiences ever is blue cheese with Lagavulin 16. The flavours both contradict and marry with each other."
There's no 'right' way to drink whisky
Unlike many whisky pundits, Colville is loath to tell you how to drink your whisky. "Yes, stereotypes exist – like add three drops of room temperature water, etc. But I would never tell anyone how to drink their coffee, so why whisky? Mix it with something you like, but find complementary flavours that work – like a Fever-Tree cola with Lagavulin 16 whisky. With a dash of bitters to add an herbaceous nose and a maraschino cherry on top."
Ice? "I'm an advocate of adding ice when you're drinking in 45 celsius heat – you might lose 20% flavor to the ice but you're gaining an enjoyable experience. Don't use ice cubes – try an ice ball or a big block of ice so the whisky doesn't dilute as much as you drink it. If you have a rocks glass or a wine glass, use those. I like a Glencairn glass, it has the right shape."
Age statements versus variants – fads?
"If we grow as the world markets do, having enough age statement whisky will be a challenge. The variants are powerful way to spread the story – you can drink the same whisky made in a different way at perhaps a lower price point. The way it's done is the distillers decide when a cask is ready, and then they decide to make something a little different," he says.
New World whiskies versus Scotch
He smiles. "Personally, I'm delighted to see the world of whisky grow. So where do these guys learn about whisky making? Scotland of course! The maker of Japan's Yamazaki spent 30 years in Scotland learning before he returned to make his whisky.
"Every whisky region has its merit, some have rules and regulations, others do not. Scotland is the most regulated. But I'm still going to say Scotch is the world's favourite!"
Global warming and making whisky
"It's always cold in Scotland! (laughs) We have not yet felt the impact of global warming in Scotland, but it might eventually hit barley stocks. We are conscious of this, but not worried at this time."
One whisky you have bought and loved…
He sighs. "Between my wife and I (she's also in the whisky business) we have 240 whisky bottles unopened at home, plus 40 open –  so no room for more. But I do have a bottle of Stauning whisky made in Denmark. It is remarkable."
You might also like