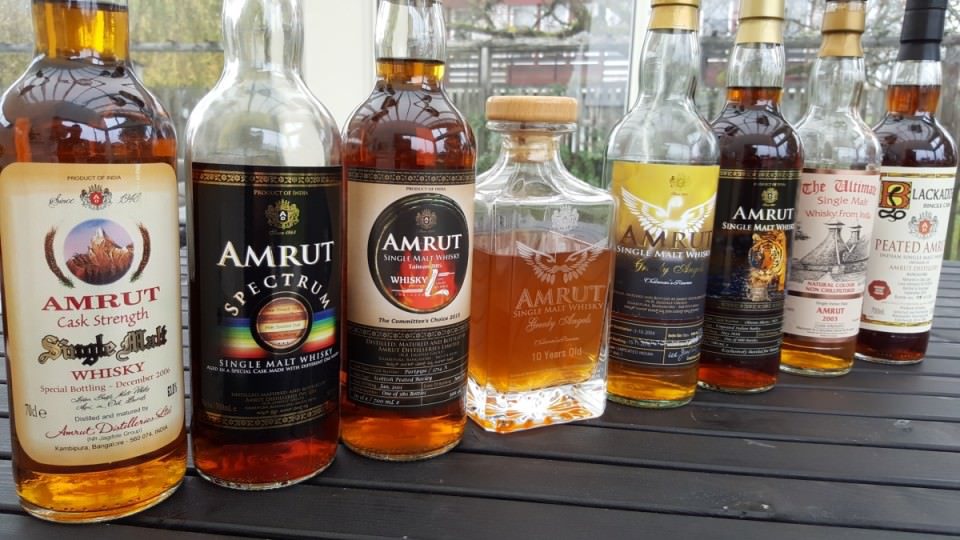 Multi award-winning Indian malt whisky brand, Amrut notches up yet another first – the world's most ardent whisky fan. Meet Sweden's Dennis Steckel
What would you call a man who is so in love with the object of his expression that he dreams of and collects information on that object every waking hour? A man who spends unstintingly to indulge this love? Who might even tattoo the object's image onto his body as an everlasting memory of his affections?
A superfan perhaps? Beyoncé has them. So does Justin Bieber, George Clooney even our own ShahRukh Khan. And believe it or not, so does India's noted Amrut single malt whisky.
The Merriam-Webster dictionary describes a 'fan' as an 'enthusiastic devotee or admirer.' But they would need to rework that definition for Sweden's Dennis Steckel, arguably one of the most passionate whisky aficionados in the world today. His devotion to Amrut makes Justin's Beliebers seem woefully inadequate.
Meet the fan
Amrut's projectile-strength international success in its 12 years of existence has thrown up some fascinating and unique tales. One of them is about its biggest fan (and Amrut has many, from every corner of the globe.) I met Steckel, the proud owner of an incredible 140 bottle collection of very rare (ergo, expensive) Amrut whiskies, when he visited Bangalore on a pilgrimage to the home of Amrut at the company's invitation a few months ago. I expected to see an eccentric billionaire, whimsically indulging his yen for the rare and unusual. Instead I met Steckel, sporty fit, jeans and tee-clad. Steckel is an employee of IKEA and a junior league football coach from the small Swedish town Ӓlmhult (population 9000).
"I tasted malt whisky for the first time when our first child was born (he and his wife Linda have three children – Tea, Liam and Disa). It was a Scottish malt, and I enjoyed it," he tells me, cradling a precious dram of cask-strength Amrut Greedy Angels 12 year old, "My first taste of Amrut came later. I had heard about Indian malt whisky and was curious, so in 2014 I bought 3Amrut Single Casks – the Bourbon Cask,  Px Sherry cask and Port Pipe cask variants. I was impressed at the richness and complexity."
Impressed is certainly an understatement. Indeed, love grew from the first sip. Today, Steckel can reel off the names of every single Amrut variant, quoting verbatim the most obscure technical details of each batch of the 24 variants that the distillery makes for international markets (only four are available in India) – a degree of knowledge that amazes even Amrut master distiller Surrinder Kumar and astonishes the owners, the Jagdales.
Spreading the love
In 2010, Steckel started the Elme Uisge Academy in tiny Ӓlmhult. The club's membership is capped at 33 with a whopping 130 on the wait list. "It's only for people who really enjoy and appreciate their whisky," he says. Steckel's phenomenal personal collection comes into play on these occasions – he's already something of a legend in the world of whisky. His most ambitious tasting to date has been a showing of nine variants of Amrut whiskies from his personal collection.
Room of dreams
Steckel has gone to the extent of constructing a specially-designed 'Amrut room' in his basement where he carefully stashes all his prized bottles. Among them are some prized ones – first- ever releases of Amrut from 2004, 6 bottles of Amrut Herald (four casks were matured in Bangalore before being shipped to the tiny German island of Helgoland to 'finish' further), 5 bottles of Amrut Everest, 3 bottles of Amrut Bengal Tiger single cask strength, and 13 bottles of last year's highly-coveted and sold out Amrut Spectrum. In pride of place are bottles of the extremely rare Amrut Greedy Angels, 8 and 10 YO, virtually impossible to source – even the Jagdale family doesn't own a bottle of the 10 YO –  released in tiny quantities (only 320 bottles worldwide) in its crystal decanter.
Amrut Fever
Steckel soon pushed his love for Amrut up a few notches, starting an international  500-strong closed group called the Amrut Fever club, created on the
lines of the 'Friends of Laphroaig' in Islay, Scotland. "It's for the truly hardcore Amrut whisky fan," he says, "There are many – some who will travel hundreds of miles across countries or continents to get their hands on a rare Amrut whisky, or help one other get hold of one." Amrut Fever works on a system of whispers much like the jungle drums from Phantom comics . If a member knows of a special Amrut bottling coming up for release, he spreads the word quickly, even helping other members procure a prized bottle. Members also trade coveted Amrut bottlings with one another.
Vikram Nikam, member of the Jagdale family and Amrut's marketing director, is awestruck at Steckel's devotion. "He owns some Amrut variants we haven't even seen since they were bottled – and we ourselves don't have a collection even remotely as spectacular as his. What's amazing is Dennis' Amrut Fever club is so pure in its heart – there's nothing commercial here at all – his focus is just to bring genuine Amrut fans together on a platform. We are humbled to have a fan like him – it pushes us to do better every time."
Legendary tastings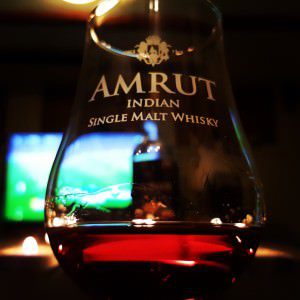 So what kind of tastings does Steckel organize? "This November (2016) I held a tasting for 70 people at Wernamo Whiskyvänner. Two Indies Rum was the starter (he calls it the 'mingle drink.') served with a very nice white chocolate from Lindt – turned out to be a fantastic combo. The whisky tasting line up started with a bottling especially selected by La Maison du Whisky  – Amrut Bourbon Cask, (only 224 bottles made for a series called the Bourbon Trilogy). This was followed by the Intermediate Sherry, Amrut Spectrum (only 1000 bottles made), Amrut 100 (100 proof peated), and the Portonova. The final whisky was a special from Blackadder (the independent bottler of coveted single malts) – finished in Jamaican rum casks (166 bottles made)."
Talk about rare drams.
How does Steckel enjoy his Amrut, and how often does he drink from his precious stash? "I open a bottle only when I get hold of a second one. I pour myself just 2cl and spend time nosing it, taking tiny sips. I have about 20 open bottles of Amrut, different expressions, which are for my enjoyment. I like to enjoy my life. And when I do something, it's 100% or not at all – like with Amrut."
I can believe that. I look at Steckel's arms. Striking tattoos – one of Amrut in script, the other of Greedy Angels, are unmissable. "The day I got my bottle, I booked my time at the tattoo studio," he says, matter-of-factly. And tat's the truth.
You might also like