The 8th edition of Vinexpo Asia Pacific came to a close on 29th May 2014.
With 16,800 visitors from the wine and spirits industry who came to taste the wines and meet the producers among the 1300 exhibitors from 34 countries. Brinda Bourhis, Director of Speechmark Bordeaux (wine education and wine marketing company) attended the event and shares with Between the Wines some of the highlights of the 2014 Vinexpo Asia edition:
During the closing press conference, Chairman of Vinexpo, Mr. Xavier de Eizaguirre remarked: "Buyers from China slightly increased, but the most significant changes came from Southeast Asia with an increasing number of buyers from Malaysia, Indonesia, Thailand or Vietnam."
• The Feminine Side of Riesling, presented by women for women. Moderator: Debra Meiburg MW, and co-organised by Tersina Shieh
An original masterclass hosted by Asia's famous Master of Wine Debra Meiburg,attendance was for women only and the co-presenters were women from the trade and producers of some fine Riesling wines.
• The China Wine Market: What Does the Future Hold? Panelists included Judy Chan, (CEO of Grace Vineyards), Don St Pierre, (Chairman of ASC Fine Wines), Dixon Yuan (CEO of yesmywine.com) and Simon Tam (Head of wines for Asia at Christie's).
This conference attracted a big crowd of wine professionals all eager to learn more about the future of the China wine market and the current trends presented by some key players in the trade. After a booming period of wine imports and production in China it seems that the market is at a stable point and for some regions such as Bordeaux, growth has recently been decreasing. However, China is an enormous market with great potential, trade and producers need to be vigilant and keep constant track on this fast-moving country.
• Wines of Argentina booth: exhibitors of DiamAndes Winery with a group of local Hong Kong wine journalists.
As for many exhibitors Vinexpo is about relationship building not only with buyers but also with the press. This winery optimized its presence at Vinexpo to present the range of wines from DiamAndes to some key wine writers and bloggers from Hong Kong, and all in a friendly spirit.
• Worldsom the international sommelier center of expertise headquartered in Bordeaux opens up its training offer to luxury hotels and restaurants. From September 2014 onwards, Worldsom will offer on-site customized programs and training sessions in Bordeaux, the world's wine capital.
Not to forget that Vinexpo is owned by the Chamber of Commerce of Bordeaux, and a number of its sub-services were present at the fair. This included a sommellerie school that opened last year – in fact among the 11 students, half were from Asia including one from India!
• 'Spiritual', a glamorous new concept showcasing many exhibiting spirits, for the first time at Vinexpo 2014.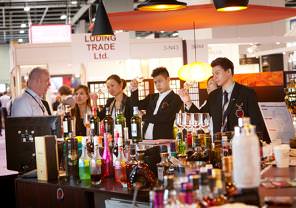 The spirits section was new this time as Vinexpo recognized the growth in spirits in Asia. The Indian visitors I met during Vinexpo were all pleased to see this category presented at the fair as it is a great relevance for the Indian market.