Cattier champagne recently created a stir in Indian wine circles by introducing their vintage champagne into the country at an unbelievably low price in retail. Jean-Jacques Cattier, who was on a whistle stop tour around the world for Cattier Champagne's 250th year anniversary celebrations, answered a few questions on Cattier, taxes on wines in India and his other famous brand, Armand de Brignac, beloved of celebrities like Jay-Z and Beyonce.
What brings you to India this time?
Coming to India enables me to feel the market, understand the consumer and it shows my personal commitment and interest for the market by creating a personal relationship with our customers.
Cattier bottles are known for their very rich and eye-catching beauty. Is there a specific rationale to this?
For us, producing a great quality champagne is not enough. The quality of the design of the bottle itself is as important.
Opening a bottle of champagne is a moment of emotion and this emotion must start with a visual emotion. You see, the bottle itself looks like a promise for a great moment of pleasure.
Despite the problems faced this year in Champagne, Cattier has declared this year's harvest a very good one. Will you be declaring this a vintage year? What problems of climate change do you see increasingly affecting the champagne region, and how does Cattier propose to handle them?
Indeed, our first impression of the harvest 2013 is confirmed by our recent tastings and analysis and we can expect 2013 to become a very good vintage for us.
In the recent years, we have indeed seen earlier harvests (not this year, which has been quite late) and higher alcohol content but those effects had no negative impacts on the quality of our champagne.
Explain a little about the Armand de Brignac champagne philosophy and its association with celebrities. Do you see it ever selling in India, a country which loves celebrations and celebrities?
The philosophy of Armand de Brignac has been to pay tribute to what we consider as emblematic villages of Champagne, to create a unique blend and a unique bottle.
We take immense pleasure in seeing celebrities all around the world enjoying our champagne. It's of even a greater pride for us that we didn't do anything to make this happen except to create a great champagne and a great bottle. A fabulous reward for us. We have already started introducing Armand de Brignac in India.
Champagne is rising in popularity around the world every day. What is your long term goal to increase your reach around the world, and what is your policy for Asia/China? Which are your biggest export markets today?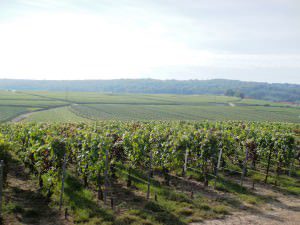 Our long term goal is to continue our policy of quality and innovation and work on developing our reputation and brand image – to have our Champagne recognized as a premium brand. And we are working around the world to select a distribution network which would reflect this policy of quality. This is the same policy for us in Asia in general, where there is a growing interest and consumption for champagne.
Our champagne is now being distributed in more than 80 countries. Our biggest export markets are Australia, Japan, China, UK and USA.
Moet & Chandon has recently launched its first sparkling wine made in India. Have you tasted it? If so what are your impressions of it, and other Indian sparkling wines you might have tasted, from a technical point of view?
We have indeed heard of this sparkling produced in India but had no occasion so far to taste it.
What are you views on the current taxes on wines in India? Also, you are launching your 2005 vintage champagne in retail in India at an amazing price – most non-vintage champagnes sell here for that price! Can you explain the rationale behind this?
The high tax regime in India is for sure an obstacle in the development of wine sales, and this is why we have decided, along with our importer, to offer our vintage champagne to the Indian market at entry level. It offers great value for money!