It was an idea whose time had come.
With the market for sparkling wines bubbling all over the world, it was only a matter of time before one of the big players stepped in to try and capture the Indian market. That big player Möet Henessey India, maker of Moet & Chandon champagne, which last week launched two indigenously made sparkling wines, the Chandon Brut (Chenin Blanc, Chardonnay and Pinot Noir) and the Chandon Rosé (Shiraz/Syrah and Pinot Noir) in a big showy launch complete with flute-toting celebrities and society page opportunities. The wines from Nashik in Maharashtra, are selling in Mumbai for Rs 1200 and Rs 1400 respectively, and should certainly be market changers.
Already several Indian wine companies (Sula, Grover Zampa and lately, Fratelli) have got sparkling wines selling well in the country, even though the critics responses to these have been varied from very good to indifferent. Also there in the market are the Champagnes, vintage and non-vintage, selling for ridiculously high prices, as well as a growing range of Proseccos, Cavas, crémants, etc, all doing good business. Now with Chandon launching in the market at a very do-able price, it is bound to make its impact felt among Indian lovers of bubbly.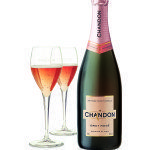 Early reports indicate that the Chandon rosé is a worthwhile buy, and has got several critics' thumbs ups already. With launches around the country (New Delhi next month, other Indian cities in 2014) scheduled over the next several months, things should get interesting.