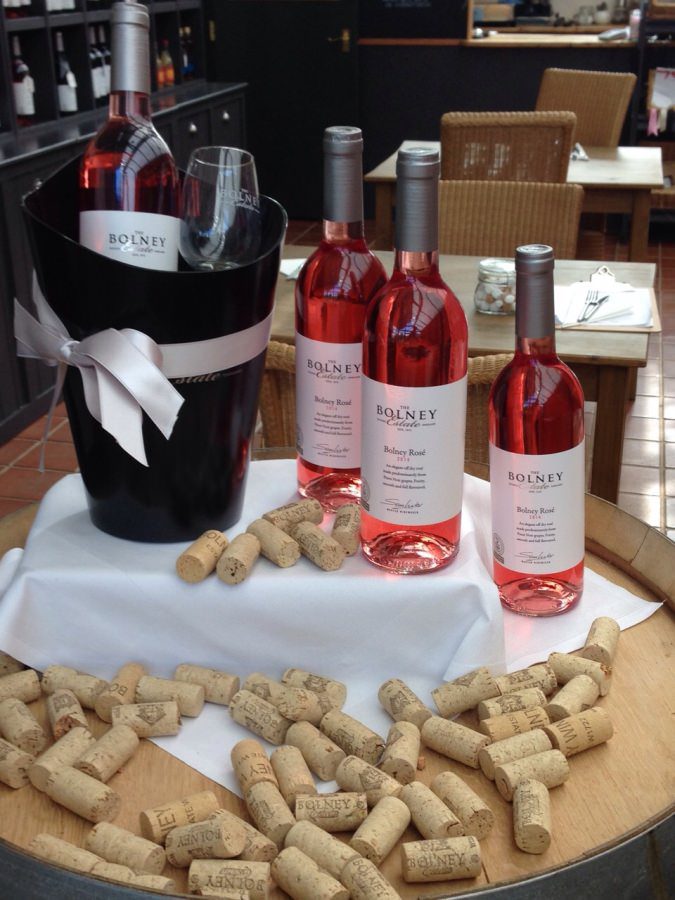 Do you know what I did last summer? My family and I hired a car and drove around the English vineyards. Yes, English vineyards. We started from Gloucestershire in the west, and drove our way down to the heart of the English sparkling wine countryside – Sussex and Kent. A learning experience and a pleasurable one at that, driving through winding country lanes and quaint English villages with delicious names, dining at pubs and staying at B&Bs.
English wine? Intriguing, as not very much is widely known about it.  But things have been steadily looking up over the last decade, especially for English sparkling wine, which has won numerous awards and medals at international competitions. So a few years ago, I pencilled it down on my list of wine regions to visit.
A brief history of English wine is required for those who aren't too familiar with it. Wine has been around in what is now Great Britain from the times of the Roman invasions, if not earlier. But unlike its European neighbours, England did not have a reputation for producing fine wines.
Until recently.
With the whole global warming scenario and rapidly changing climate across the globe, England enjoys an enviable advantage of location and weather, something that cannier English wine producers are now banking upon. The terroir in the south west of England, especially the limestone-rich soil, (Sussex/Kent) is similar to that of Champagne, not too far away as the crow flies. So it made sense for English producers to begin planting the same grapes which have made Champagne famous – Chardonnay, Pinot Noir and Pinot Meunier. Plus a whole lot of others which you may not have heard about – and I was fascinated by the knowledge that English still wine is dominated by so many German varieties, some pretty obscure or rarely grown elsewhere. (Much of it, I was told, developed during the 1970s when the German research centres offered support, rootstock and clones to the nascent English wine industry). Huxelrebe, Madeline Angevine, Ortega, Reichensteiner, among the whites and Dornfelder, Dunkelfelder, Rondo and Regent among the reds were some I encountered this time. England also plants quantities of Seyval Blanc, Auxerrois, Pinot Gris and Müller-Thurgau. And do be warned, British wine is not the same as English wine. British wine is made from grapes bulk-imported into the country, while English wine must be made from grapes grown in England. There are also currently 490 vineyards in England – not a small number.
Surprised? I was.
Three Choirs, Gloucestershire
Website: www.three-choirs-vineyards.co.uk
Address: Newent, Gloucestershire GL18 1LS
One of England's oldest planted vineyards, Three Choirs in the picturesque Cotswolds and at the edge of the Forest of Dean combines both wine tourism with wine production. Charming vineyard cottages (lodges) have sit-outs overlooking the vineyards and claw-footed bathtubs in the bathrooms, as well as an all-British fine dining restaurant set overlooking its rolling vineyards have made it a very popular weekend getaway or even a weekend gastronomic indulgence (slow-cooked daube of Herefordshire beef, button onions,  mushrooms, pancetta and thyme accompanied with duck fat chips, anyone?) It was our first stop on our drive which commenced in Bristol (after a particularly satisfying gourmet English meal at The Pony and Trap, the Michelin-starred restaurant in the village of Chew Magna, on Bristol's outskirts.)
The cottages at Three Choirs were quiet and serene – just the ticket after the hectic graduation week. In the morning, winemaker Martin Fowkes took me around the winery and vineyards. This was a fruit farm until 1973, he explained. Three Choirs' first harvest was in 1976, a very hot summer. Today it's one of England's largest vineyards, with 75 acres under cultivation, producing 250,000 bottles of wine annually. Three Choirs struck a blow for Queen and country by winning a first-ever gold medal at Vinexpo Bordeaux in 1983, at a time when English wine was barely heard of. Today, they concentrate on their still wines, with 16 grape varieties in the vineyards (producing nine whites, one rose, two reds and two sparkling wines). The wines have a markedly fruity character – after all, it was a flourishing fruit farm – punctuated with a quiet English restraint in the wine's finish.  In fact Three Choirs started the whole wine tourism movement early on, though in those days it was just a vineyard visit, a ploughman's lunch with a glass of wine!
Martin rues the high duties on English wines, which pushes up prices for the consumer. "The duty in France is equivalent to about 2 or 3 pence a bottle. Our government should support us more," he said. Three Choirs also has its own ciders and ales, one named after the legendary character of Dick Whittington who lived "over the hill." The wines include a wide range, including the exotic-sounding, aromatic Siegerrebe (£12.99), a cross between the equally exotic Madeline Angevine and Gewürztraminer), and a single-varietal Bacchus (£12.99), a wine that is gentle, dry and very British, with distinct notes of herbs and elderflower.
Bothy Vineyard, Oxfordshire
Website: www.bothyvineyard.co.uk
Address: Bothy Vineyard, Frilford Heath,Abingdon OX13 6QW
From here it was up to re-visit the dreaming spires of Oxford. Though, being vacation time, the city was bursting at the seams with tourists, so we took our host's advice and escaped to visit Bothy, an Oxfordshire vineyard in a little hamlet named Frilford Heath, run by an Oxford don and his wife – Richard  and Sian Liwicki. (See my blog elsewhere on this site).
Ridgeview Estate, Sussex Downs
Website: www.ridgeview.co.uk
Address: Fragbarrow Lane, Ditchling Common BN6 8TP.
Then on to Ridegeview. One of the absolute must-visits on my list.
One sip of any of Ridegview's famous sparkling wines and you can see why the prospects of English sparkling wine are good, very good. We drove into the tiny, quaint village of Ditchling situated in the beautiful South Downs of England's south east. Ridgeview is run by the second generation of founder Mike Roberts' family, and makes 10 classic Champagne-style sparkling wines. We were given the grand tour by Tom Surgey, Ridgeview's business development manager and did the tasting in their tasting room with a stunning view of their vineyards. Later, we were joined by the very friendly Mardi Roberts, who handles sales and marketing. As afternoons go, it was a sparklingly lovely one.
"Ditchling Beacon is 90 miles from Champagne, as the crow flies," said Surgey, explaining why the two regions produce similarly styled wines. Indeed, the soil here has the requisite chalk, limestone, clay and kimmeridge, and the clones are from Champagne. Ridgeview started their production in 1996 with 25,000 bottles. Today they produce 250,000 and have ambitious plans already in place to scale up operations to keep up with demands. Indeed, Ridegeview has led the charge along with other producers like Nyetimer and Chapel Down, sweeping awards and medals for English sparkling wine. "But we're not trying to be champagne," he adds, "There are many points of difference – for instance our long, cool ripening imparts a delightful fruit flavour along with a balanced acidity. In our Pinot Noirs, you can taste the concentrated fruit character." (more…)