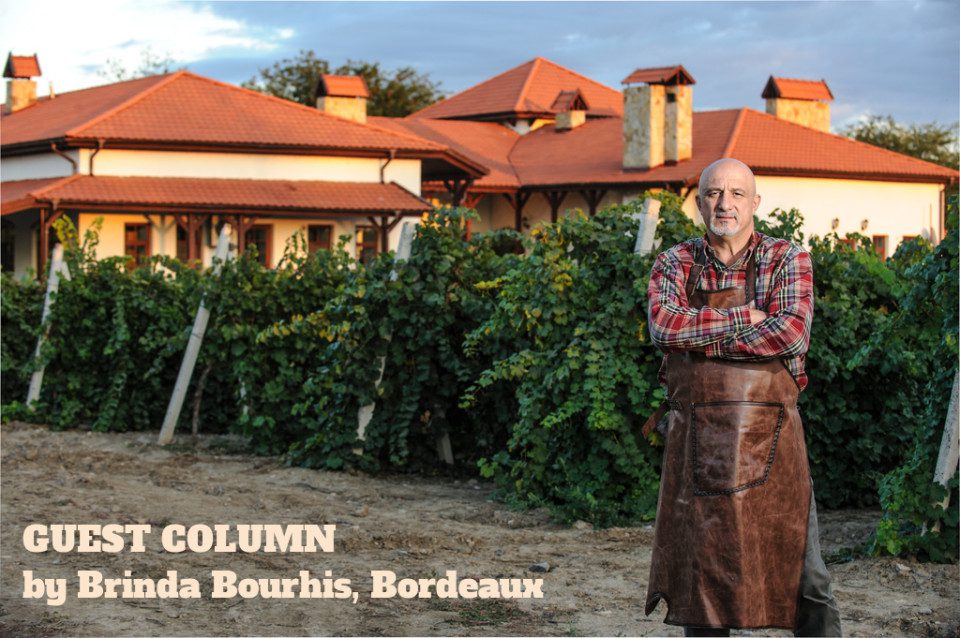 For my first trip to Ukraine, I was not really sure what to expect. Since I was travelling with Bordeaux wine consultant Olivier Dauga, who has been visiting this country for ten years now, I knew I was in safe hands.
We were on our way to Kolonist Winery situated south of the Odessa region, in an area called the Danubian Bessarabia. This was where viticulture started way back in ancient Greek time. The journey was slightly long, with a few bumpy roads (that many Indians would be quite used to) but upon arrival it was worth the wait.
The view of the vineyard was breath-taking, planted on south-western slopes leading down to the biggest fresh-water lake in Ukraine called the Yalpug.
Ivan Plachkov and his wife Alla, owners of Kolonist were excited to show me their winery that was founded in 2005, and eager to listen to Olivier Dauga's advice on how to prepare the coming manual harvest. Ivan told me the story on how it all started, his encounter with Olivier ten years ago, his determination to produce one of the best wine brands in a country that has prospered but also been affected by wars and strict Soviet regime in the past. As an ex-minister of fuel/energy, and ex-governor of the Odessa region, Ivan is like a history book that has come alive.
As a Bordeaux wine expert, Olivier has been offering his advice on vineyard management and winemaking techniques, without necessarily copying the Bordeaux-way, but rather adapting to Kolonist's needs and expectations with the goal of producing wines of quality. I watched Olivier in action with the Kolonist team, tasting several batches of the wines currently undergoing ageing in barrels, and giving his opinion on the blends. Both Olivier and Ivan seemed pleased with what was being tasted, 2016 should be promising.
Walking through the rows of vines, we could see the grapes had formed and were in a healthy state. The continental climate brings warm summers, so Kolonist is lucky not to have to deal with rot. Thirty hectares of vines are planted on loamy soils that are rich in minerals and limestone. Indigenous grapes can be found such as Sukholymansky white and Odessa Black, along with international varieties: Merlot, Cabernet Sauvignon, Riesling and Chardonnay.
My favourite from Kolonist must be the Riesling, it has nice fresh peach aromas and a touch of minerality. It paired really well with the crayfish fresh from the local Yalpug lake. The Cabernet Sauvignon-Merlot blend is worthy of a good classic Medoc (the Bessarabia region lies at the same latitude as Bordeaux). This wine was a good match with lamb cutlets grilled on the barbeque with homemade paprika seasoning.
Twelve wines make up the range including a sparkling wine. Kolonist has an on-line shop on their website for delivery in Ukraine. For example, the Riesling retails at 9€, Chardonnay at 10€, Cabernet-Merlot at 15€ and the Bisser Sparkling 16€. The winery is still working on developing its export sales, but for those visiting Bordeaux city, you can enjoy a glass of Kolonist Riesling or Odessa Black at Vins Urbains wine bar (27 rue des Bahutiers, 33000 Bordeaux).
I highly recommend wine enthusiasts to pay a visit to Kolonist winery, they will discover lovely wines, remarkable landscapes and most of all will be received by such generous and friendly hosts the Plachkov family.
Visit theWebsite: http://kolonist.com.ua/en/winery/
After five years working for a major Bordeaux wine merchant, British-born Brinda
Bourhis has a solid knowledge and experience of the wines of the one of the finest
regions in the world: Bordeaux.
She owns Winevox, a company that provides quality wine education including the
WSET course, wine marketing and translations for the French wine industry.
Winevox also runs an on-going ambassador programme in
the US for the Crus Bourgeois du Medoc, organising masterclasses at top
universities such as Stanford, Columbia, Yale and staff-training for wine retail stores
as well as tastings for private wine clubs and associations.