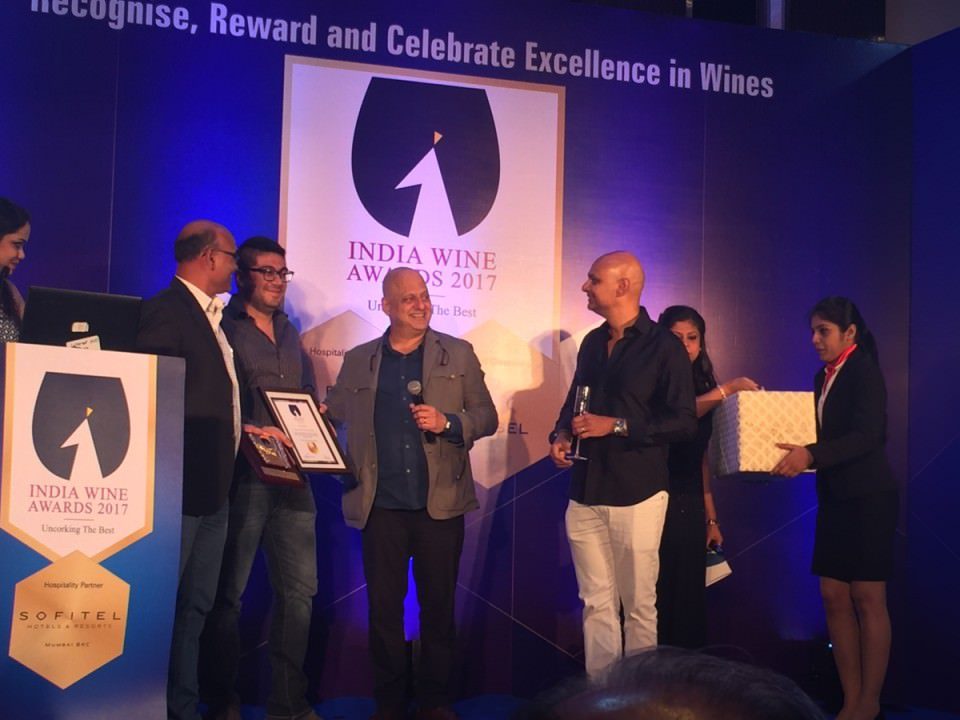 India's first ever major wine awards were held in an atmosphere of celebration and revelry in Mumbai. Read on to find out who won…
So, India's first major wine awards were held on 22 April 2017 in Mumbai at the Sofitel Mumbai BKC. The endeavor was headlined by Sonal Holland MW, taking a step forward from her creation of India's first consumer survey on wine, the Indian Wine Insider 2017, along with the very experienced Subhash Arora of the Indian Wine Academy and delWine, and food writer and critic Sourish Bhattacharya. The awards were also aimed to bring focus on India's burgeoning young wine industry and celebrate its achievements. Not just Indian wines made in India, but also wines brought into India – imported – for consumers to taste and buy.
I was in Mumbai and made it a point to stop by to feel the energy of the evening, to connect with wine industry pros and friends old and new. I'm glad I did.
For one thing, here was a congregation of people with one thing in common: wine. Most of them wine professionals, winemakers, producers, importers and wine media. There were also restaurateurs, food critics and food-and-wine lovers. For the wine industry to grow and flourish, the protagonists need to meet, exchange notes and back slap occasionally. This platform created such an environment. In Holland's words: "Here we recognise, reward and celebrate the best of the best Indian and International wines available in India."
The second purpose was to acknowledge and appreciate the progress made by the still-young wine industry in India over the years. Make no mistake, progress has definitely been made, and rapidly. However, an event of this scale has never been held before, even though they are very frequent in developed wine countries. I hope, going forward, more wine folk in India will make an effort to come together and applaud one another's efforts. In that direction greater success (and growth) lies.
Of course, the whirlwind nature of the evening didn't leave a lot of time for feedback and analysis for me, though I did take mental notes. But what was clear was that a major step forward has been taken by the people best qualified to do so.
Cheers to the troika of Sonal, Subhash and Sourish and their amazing team. A hat tip to Biswajit Chakraborty and his people at Sofitel Mumbai BKC. And to all the industry people there, winners and otherwise – here's to a great job done. And all the very best for the future.
The results of the winners, below:
LIST OF TROPHY WINES AND CATEGORIES:
INDIAN WINES
Best Indian Budget Wine: Sidus Premium White 2016 (Fratelli Vineyards)
 Best Indian Superior Wine: Nine Hills Chenin Blanc 2016 (Pernod Ricard India)
 Best Indian Premium Wine: SDU Reserva Syrah 2013 (SDU Winery)
 Best Indian Super Premium Wine: Chêne 2014 (Grover Zampa Vineyards) (more…)