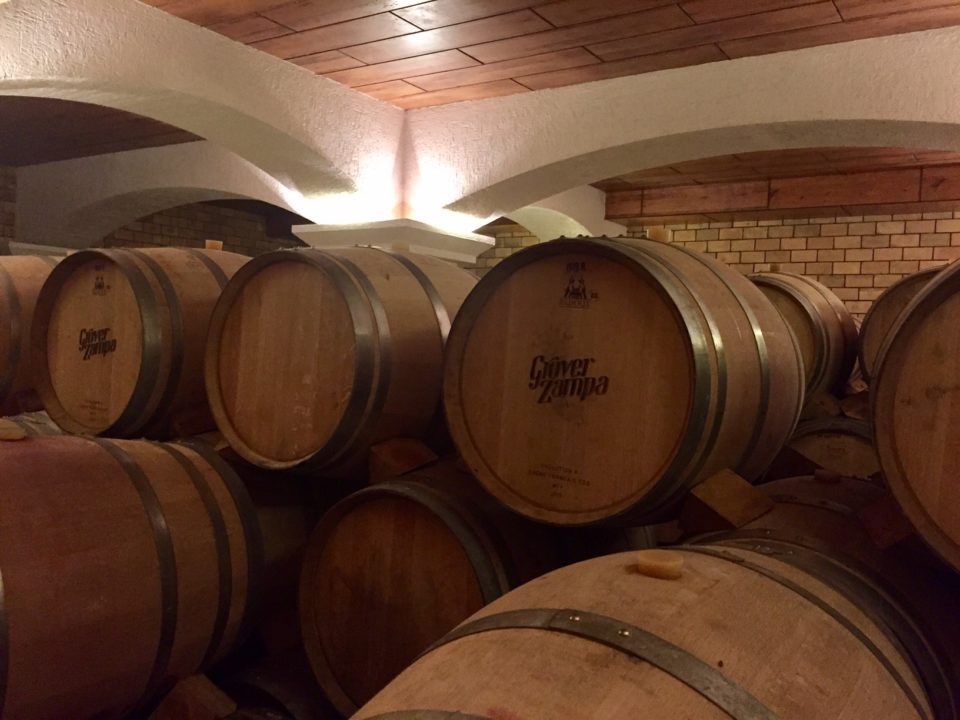 Karnataka's Grover Vineyards has long been a beloved, familiar wine destination for Indian wine lovers. On the occasion of their 25th anniversary, I  recently re-visited the winery and spent a morning tasting their wines and chatting with Karishma Grover. Before that, a stroll through their lush KRA vineyards set the mood for my day at the winery.
It was a sunny October morning as I took the long road to Doddaballapur, the home of Grover Vineyards for over 25 years. One of India's oldest, most noted wine producers, Grover Vineyards or GZV as it is known in brief, has been spending a large part of the past few years collecting awards, winning accolades and firmly establishing its place as one of the pre-eminent names in the wine industry in India. (Read about its history here.)
Over the years, as a member of the Bangalore Wine Club (another venerable Indian wine institution), I have often visited the winery and spent memorable times there – winery visits, picnics, strolls through the vineyards and tastings. Their La Réserve, arguably India's first ever reserve wine, was one of India's popular red wine brands.
This special anniversary certainly warranted a re-visit and a walk down nostalgia lane.
Over the course of its existence, GZV has undergone many changes. But the Grover family has remained at the helm of affairs. Now Karishma Grover, third generation family member and coincidentally India's youngest winemaker, steers wine production. On domestic awards and international recognition alone, with a whopping 124 to its name, GZV outstrips all other top wine brands in India.
The hour-long journey ended before familiar gates – the ivy-covered winery lies behind a sprawling green lawn, adjoining a more recently-added tasting room where visitors drop in to try some of GZVs extensive range of wines or buy a bottle or two to take home. The adjacent vineyard, now fenced off, is where we have roamed in the past – the venue for many a fun picnic. Everything looked the same yet different – brighter, greener and sunnier. With me today was a small group of friends, most of them also awash with nostalgia and keenly looking forward to the visit.
Karishma Grover walked out to greet us. A trip into the vineyards might be advisable to begin with before the day got hotter, she suggested. We could walk through the winery and into the cellars thereafter. Good suggestion. So off to the vineyards we went, accompanied by vice president, vineyards, Manjunath VG. He would be walking us through more than the vines – also explaining a little about grapes, terroir and all the accompanying stuff that both fascinates and confounds wine lovers.
A vineyard crawl and some pink bubbles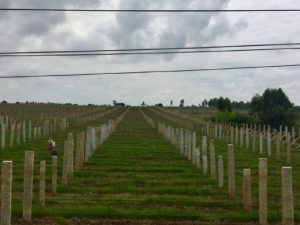 I love vineyards.
Be they anywhere in the world, there's always a gentle hum of almost-invisible activity – Nature doing her thing. Bees buzz, insects crawl, vines bloom. Then there are the acres of green, rolling slopes with vines on supporting trellises. Understanding even a little of the whys and wherefores of a vineyard can help give insights into the wine in your glass.
This vineyard is a 50-acre holding called KRA, one of two wholly-owned by GZV and closest to the winery. Growing primarily white grape varieties – 30% each of Sauvignon Blanc and Grover's prized Viognier, it also has smaller parcels of Muscat, Chenin Blanc, Tempranillo and Syrah. GZV has a total of 450 acres under cultivation in Karnataka and Maharashtra, 30% directly owned, the rest under closely-supervised contract farming, says Manjunath. "The soil here is sandy and loamy with some clay. It's better for our white wines." They use the VSP (vertical shoot position) vine training system, and harvesting is done entirely by hand – the advantage of easily-available labour in India. GZV is proudly Old World in their wine-producing ethos, following founder Kanwal Grover's early vision.