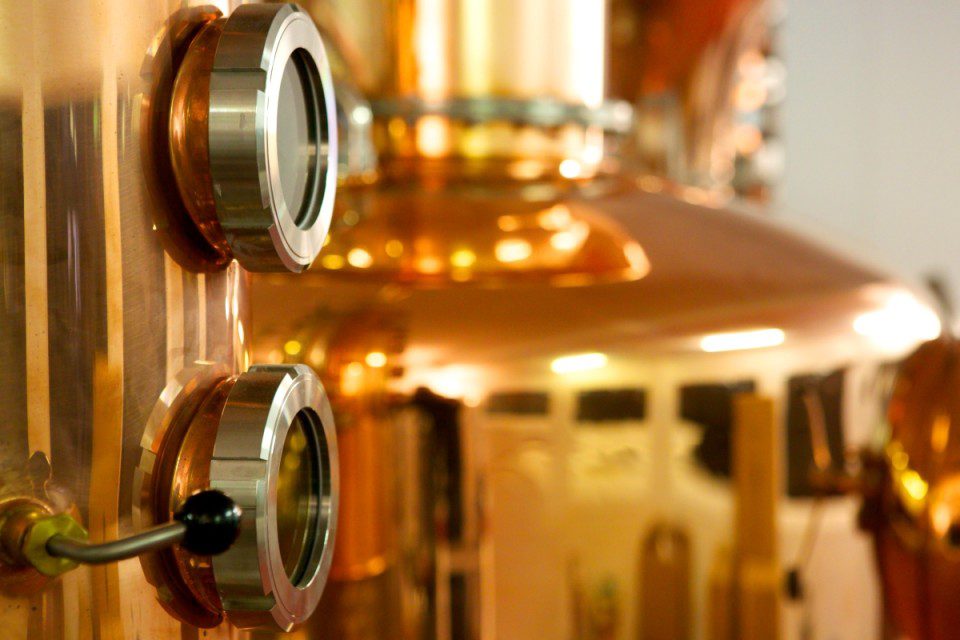 …says PJ (Pat) Rigney, entrepreneur and creator of an Irish gin made in the tiny Irish hamlet of Drumshanbo. This is true, I discovered during my wanderings around the vast Vinexpo halls last month, stopping to try some of the new spirits on offer. One of them was Drumshanbo Gunpowder Irish Gin which has derived inspiration from Indian spices, among other magical ingredients. 
I sipped the gin and was floored. Here was a gin that was both exciting and unconventional. I probed a little deeper, connnecting with Rigney, the owner of The Shed Distillery where it is made. Traveller and explorer, Rigney is creator of the 'curiosity'-driven premium spirits coming out of his multi-spirit distillery – super-premium gin, vodka, handcrafted Irish Pot Still and Single Malt whiskey and new liqueurs will all be crafted here.
If you are in Ireland, stop by the distillery; because Drumshanbo Gunpowder Irish Gin is slow-distilled by hand in a gleaming medieval copper pot gin still fired by steam at The Shed (in Drumshanbo, County Leitrim in the northwest Ireland). Worth a dekko.
Excerpts from my interaction with him.
What struck me first at Vinexpo was the unusual name: Drumshanbo Gunpowder Irish Gin. Could you explain the name? (In India we have a very spicy masala powder from the Andhra Pradesh region known as gunpowder…!)
This is a very interesting question, which leads to the essence of the brand.
Our gin is slow-distilled by hand. The method combines vapour distillation of fresh citrus fruits with a special selection of oriental botanicals including gunpowder tea and local Drumshanbo meadowsweet.
Drumshanbo Gunpowder Irish Gin was a long time in the making, and indeed it was my travels across the world, including India, which eventually lead to the final selection of botanicals in the recipe. In fact, two of the 12 botanicals were discovered on my travels through India – cardamom and caraway seed.
On my journey East I stopped briefly in Western India, where I came across a small stand selling sweet, aromatic dishes. I picked up a bowl of shahi tukra, and was hit by the both sweet and savoury flavours of the small, yet powerful cardamom. And I knew cardamom would be key to the final recipe. It was in the bustling street of Kolkata that I was intrigued by the rich scents of sweet spices drawing me to an open-air spice market. A local merchant told me that his caraway seeds were the key to adding flavour to many traditional dishes. I believe strongly in mixing innovation with tradition and so I added caraway seed to my botanical bag.
Drumshanbo is where Drumshanbo Gunpowder Irish Gin is made and I included in the name as it is an inextricable ingredient of the gin.
The spices: coriander, star anise, cinnamon and gunpowder Chinese tea combined with traditional gin botanicals like juniper berries…. Isn't there a concern that it might be too spicy or strong or 'out there' for some? I personally thought it was stunning and needed no embellishments or add-ons.
The tiny green pellets of gunpowder tea are probably what started it all for me. During one of my many voyages into terra incognita, I found myself part of a Moroccan tea ceremony. This ceremony is at the heart of all social gatherings, and it was a great honour to be invited.
Here I noticed the small, rolled, green leaves, brought from the Orient since the Tang dynasty of the 7th century. I instantly knew I needed to add them to my secret tabernacle back in The Shed Distillery. So I set off on my next journey to their source: the eastern province of Zhejiang, China, and I discovered many an interesting botanical along the way. (more…)