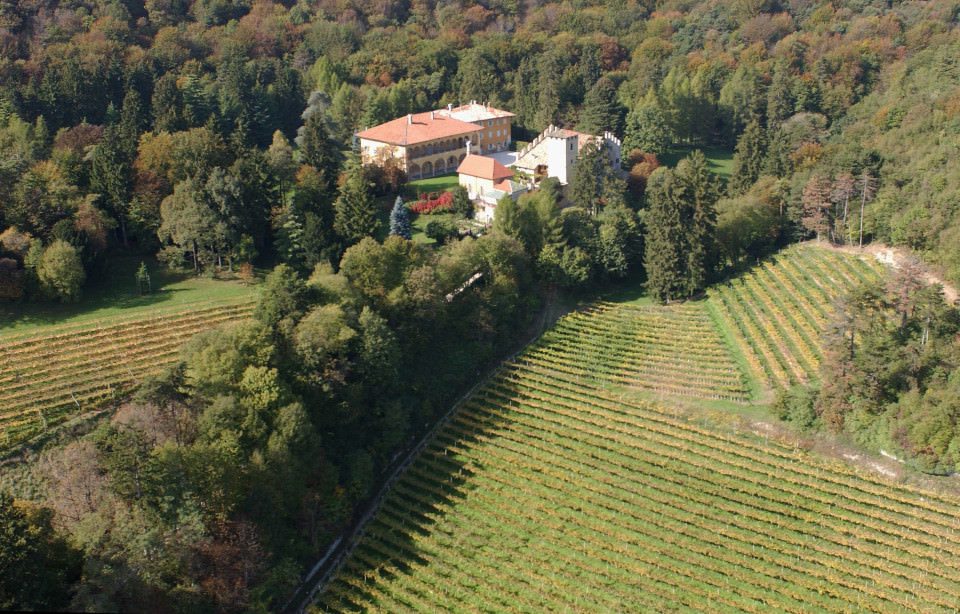 A first-hand glimpse into wine brand Ferrari's Art of Living philosophy, which centres on their award-winning sparkling wines and the best tenets of Italian living. A 3-part blog.
Trento Travelogue 1: Ferrari Trentodoc, the camp
Recently, I visited Trento, the city situated at the foothills of the picturesque Dolomites in the Italian Alps, and part of the Trentino-Alto Adige region. My trip was to attend a four-day 'camp' at the invitation of the Lunelli family, makers of the country's top-rated Ferrari metodo classico sustainably-made sparkling wines, based in Trento. It was a breathtaking part of the country and the Lunellis were hosts par excellence. There was nothing remotely campy about the four days – which included a non-stop flurry of Michelin-star lunches and dinners in 16th century Renaissance villas, helicopter rides whirling through the clouds over vineyards, surprise soirées and heart-stopping funicular rides on the shores of Lake Garda, comprehensive sessions on understanding biodiversity practices and innovations and mingling with a diverse power group from the international wine world. It was seemingly a non-stop party with "rivers of Ferrari" (as someone pithily put it) bubbling in our glasses each day.
Beyond the breathless socializing, there was much to learn, which I will break into separate blog posts.
Ferrari: Who, Where, When and Why
Most non-Italians associate the name Ferrari with speed and top engineering on wheels. But Ferrari, the multi award-winning brand of sparkling wine from Trento is a brand that's older, in fact, and as revered for its quality. Ferrari comes from Trento D.O.C (Denominazione di Origine Controllata) or Trentodoc. Trentodoc is the first D.O.C in Italy and the second in the world (after Champagne) dedicated exclusively to wines made by the méthode champenoise/traditionelle, where the second fermentation takes place in the bottle.
Brand Ferrari: Ferrari is owned by the Lunelli family (who also own top Italian brands Surgiva mineral water, Bisol Prosecco, Segnana grappa and Tenuta Lunelli ), and is presently being run by family's 3rd generation – Matteo Lunelli (head and current president of the International Wine & Spirit Competition or IWSC, the 3rd Italian in this position after Antinori and Frescobaldi), his winemaker brother Marcello, his sister Camilla who heads marketing, and brother Alessandro who runs Tenuta Lunelli, making wines in Tuscany and Umbria.
Ferrari has carefully picked its partnerships and associations with some of the world's top-branded events and names – think the 50 World's Best Restaurants, the recent 68th Emmys awards, accolade-winning super chef Massimo Bottura, and Italian brand biggies Juventus, Costa cruises, Ermenegildo Zegna, Maserati and Alitalia. Ferrari has been sipped by celebrities like Andy Warhol, Tilda Swinton, Paolo Rossi, Lindsay Vonn and Woody Allen. And it is served at the Palazzo del Quirinale, home to Italy's President. It's also a member of Italy's luxury brand foundation, Fondazione Altagamma along with brands like Bottega Veneta, Bvlgari, Fendi, Ducati, Ferragamo etc etc.
The name Ferrari comes from founder Giulio Ferrari with whom the story began in 1902. After apprenticing in Champagne where he learnt all about the méthode traditonelle, he returned to Trentino where he decided the terroir was ideal for making a luxury sparkling wine. Thus started the Ferrari story. Before his death, Giulio passed on his business to his friend Bruno Lunelli, and it has remained with the Lunellis to this day. The Lunellis retained both Ferrari's name, original philosophy and practices, and Ferrari has gone on to become the topmost maker of metodo classico sparkling wines (as the Champenoise or traditionelle méthode is known as in Italy) with 4.5 million bottles annually, about 20% of all metodo classico produced in Italy. "Our family wants to be culture carriers," explains Marcello Lunelli on the camp's first day, describing the Ferrari ethos. Ferrari has retained the founder's black-and-white colours for its bottles, sexing up the logo with bold modern geometric strokes.
Sustainably made metodo classico sparkling wines: Ferrari is made by the metodo classico with only classic Champagne grapes – Chardonnay and Pinot Noir (the D.O.C. also permits the use of Pinot Meunier and Pinot Blanc). "During the day the vineyards are kissed by the sun while the nights are cool. This helps retain balanced acidity and aromas in our wines," says Marcello. The diurnal shift is the key, he adds. "Champagne has the latitude, we have the altitude." With global warming already changing things up in Champagne and other sparkling wine regions, Trentodoc has the advantage of having its vineyards at high altitudes. (more…)