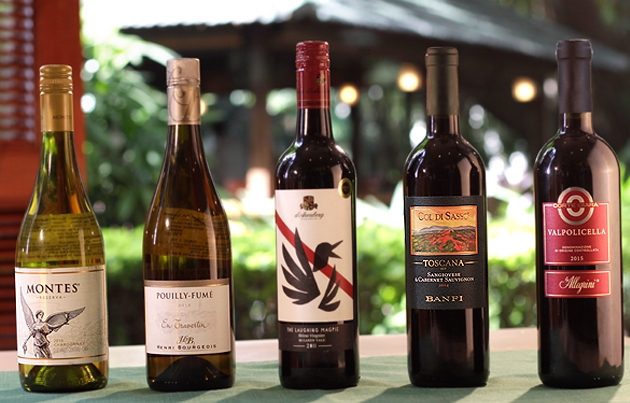 There are many ways to promote the culture of wine in India. One of them is via high-end wine dinners, where food is paired with wine over several courses. Is this format the one that works best? A recent wine dinner I attended made me stop and wonder…
It rained in Bangalore last Friday night. Scratch that. It poured.
But that did little to dampen the spirits or lower the attendance at the Best of The Oberoi wine dinner organized by Food Lovers India to celebrate its 25th anniversary of existence in the city. It was a full house (56 guests) at the glass-fronted Le Jardin for the multi-course repast, each one a small gem selected from the individual restaurants so long a part of the hotel's history: Rim Naam (Thai), Szechuan Court (Chinese), Polo Club and Le Jardin (European). Four wines selected from premium wine retailer La Cave were paired with the meal. The city's wine lovers turned out in good numbers and the room hummed with mellow conversation for hours while the rain drummed against the window panes.
Of course, The Oberoi has, over 25 years, arguably set the gold standard in terms of culinary excellence coupled with refined service. This evening brought back those memories as I wound up the evening close to the midnight hour, well-indulged by the culinary team led by chefs Ajit Raman, Hitesh Pant and Bhuvan Ravishankar. That was the (sugar free) icing on the cake.
I recall several conversations with wine industry influencers about how India, a relatively late entrant into the joys of drinking wine, needs to devise new and multiple ways to draw new wine enthusiasts into the fold. India's wine community of experts and influencers has been constantly seeking ways to tickle the fancy of these newbies. The consensus was that more informal and easy formats which educate while they innovate are called for, especially targeting millennials who are keen to learn but sans fuss or frills. The jury's still out on how to make that work. But wine-paired dinners, today a tried and tested method of popularizing wine culture, have been around since the days of the maharajas. Even if, on the other hand, the whole concept of food paired with wine is relatively new to the Indian population.
So why does the wine dinner in its most refined form as this one, continue to exist, even thrive, here?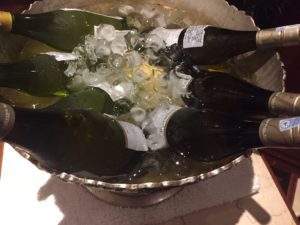 The answer, I believe, lies in its enduring allure to the senses.
For instance, The Oberoi's 'reconstructed' Thai chicken 'dumplings' from Rim Naam, paired with the Henri Bourgeois Pouilly Fumé 2015 was a seamless match, as was the fresh, fruit-rich Montes Reserva Chardonnay 2015 which I had with a warm salad of mushroom and avocado, while others enjoyed it with burrata. Crispy lotus stems or roasted duck came with D'Arenberg The Laughing Magpie Shiraz, 2011. The main course, a lobster moilee was more unusually paired with a Valpolicella DOC (Allegrini Corte Giara 2015) from Italy, a red wine. My own excellent dessert – a refined sugar free/dairy-free jaggery and coconut milk pannacotta, had me dreaming of a wine to hold up to it. (An off-dry Viognier comes to mind? If you've had an aha moment with a similar dessert, do write in to tell me).
From personalized, monogrammed white damask napkins to the impeccable service (every requirement attended to smilingly at the speed of light by our young server, Abhijit) and meticulously created food, it was a memorable wine dinner among a sea of similar wine dinners.
New concepts and formats would certainly work if they are special, says Kripal Amanna, publisher and editor of Food Lovers who curated the event. "Many young people are looking for experiences like this, where the food and wine are taken care of ahead and you can sit back and enjoy a unique experience." So while other formats will come, the gala wine dinner will remain the summum bonum of wine and food experiences as long as it offers a dash of that extra special something, he adds.
I agree. As millennials embrace new formats  – wine picnics, tasting sessions with some of the best wine brands in India, winery visits and educational sessions in their quest to embrace wine culture, the curated wine dinner will remain at the top of the heap, providing that genteel balm of luxury to those to whom wine and food remain a passion.