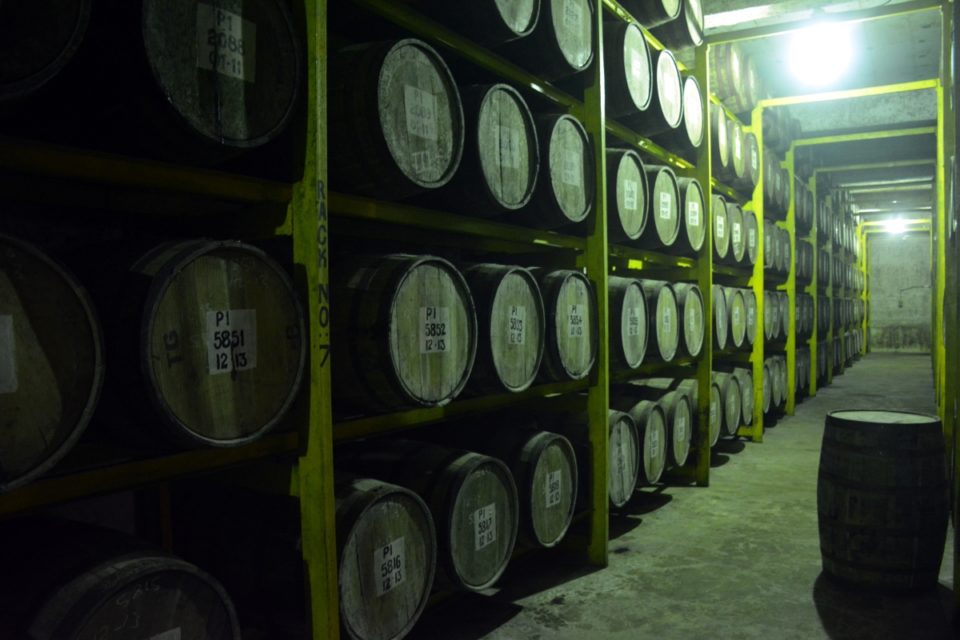 …So I catch up for a congratulatory chat with @indianwhiskyguy, aka Michael D'Souza, the master distiller who made it and the other award-winning Paul John Single malt whiskies
The Indian whisky brigade is on a high. Rapidly gaining admirers and fans for its elegant and expressive single malts over the last decade or so, it's now quite ready to take on the world.
So it seems quite well-timed when globetrotting whisky expert Jim Murray, he of the acerbic wit and golden palate, chose another single malt whisky from India as Asian Whisky of the year 2018, in his latest Whisky Bible released in October this year. The whisky in question was Kanya by Paul John, a new expression from John Distilleries, maker of Paul John single malts. This achievement was no easy job, considering Kanya came up against the best whiskies from Japan, Korea and other star whisky-producing countries.
The man behind the growing portfolio of PJSM whiskies (eight expressions at the last count) is master distiller Michael D'Souza. The soft-spoken professional is virtually the antithesis of every high profile whisky ambassador in the world – no booming voice, rapid-fire marketing patter, glib turn of phrase or LOL humour. But sit for a few minutes with him, and you will discover a human encyclopaedia on whisky making.
Michael is on Instagram as @Indianwhiskyguy, and posts on social media from every exotic destination in the world.  Lucky chap, I tell him. He laughs. "The hazards of my kind of travel is that I'm always working." He clocked 150 days on the fly last year. No mean feat, that.
Excerpts from our chat:
Congratulations, Michael. For your latest creation, Kanya by Paul John being named Asian Whisky of the Year in Jim Murray's Whisky Bible 2018. 
Thank you. This expression was created out of the oldest whisky we had – 8-years-old. But remember, one year in Indian whisky-making is equivalent to four years in Scotland (due to our climate and other factors). So Kanya is equivalent to a 35-year-old Scotch whisky in terms of maturity.
It sounds quick and simple. But it's not as easy as all that, am I right?
No, it's not easy. There's the danger of major wood extraction coming through in the whisky, even to the point of becoming undrinkable. With Kanya, we did achieve something not done in India so far. Next, on the cards, a 10-year-old Paul John, distilled in 2009. I'm hoping one day to produce a 12-year-old.
Of course, we are on a learning curve still. Unlike the Scots, we don't know what will happen (to the whisky) after 25 years (of maturation).
Indian whisky. Give me some perspective on the much-vaunted age statement in our Indian scenario.
Each whisky is different, each has its own regional characteristics. In India, Amrut and Paul John, for instance, are 700 km apart, and though we follow traditional forms of whisky-making, our whiskies are different because of environmental conditions, types of wooden barrels, etc.
I decided to start working with the environment. The (pot) still is designed to these specifications, and our barrels are of American white oak, which gives the whisky an elegant flavour profile. In the barrel, the whisky integrates with the wood, loses  some volume but keeps changing character.
As a whisky maker, I believe in flavour over age – age isn't the first criterion. We don't need to over-mature our whiskies. In fact, looking at the Whisky Bible results this year, there weren't many winning whiskies featured that were over 21 years.
PJSM is giving a lot of importance to quality barrels…
Yes. Once whisky goes into the barrel you don't have control over it – only temperature and positioning.
Goa. Why this location for your distillery? Though it seems to have worked well for PJSM!
When I started making whisky, I had to think out of the box… remember, 20 distilleries had already started making single malts earlier in India but had failed. And they weren't doing anything wrong as such… just one factor or the other was off, or not in place. Everything is interconnected when it comes to distilling whisky.
So I built two warehouses at different altitudes – one underground and one over, both in Goa. This way, I had two different climatic conditions at hand. One with higher humidity, where the whisky would develop more robust flavours. The underground warehouse would give the whisky more elegant notes. So now I had two different expressions to help me blend…
So tell me about Kanya.
Just 5000 bottles have been made in all, and we will be releasing these in batches of 1500 bottles at a time. This whisky is different altogether. The name itself defines it – silky, smooth, honey characters – not many distilleries can get that honey character (Jim Murray loved it – commented on the Manuka honey at the finish, something few distilleries have ever achieved,  in his opinion.) The one distillery which got it right was Highland Park, but most can't even when they try. Kanya is sweet, chocolatey, coffee-mocha and more minerally thanks to the Goa humidity and salt in the air from the sea.
 Part 2 of the interview with Michael D'Souza will be posted shortly on this website.
Kanya by Paul John will be launched in India in January 2018 at Rs18,000 per bottle. The allocation is 1500 bottles for this launch.
You might also like