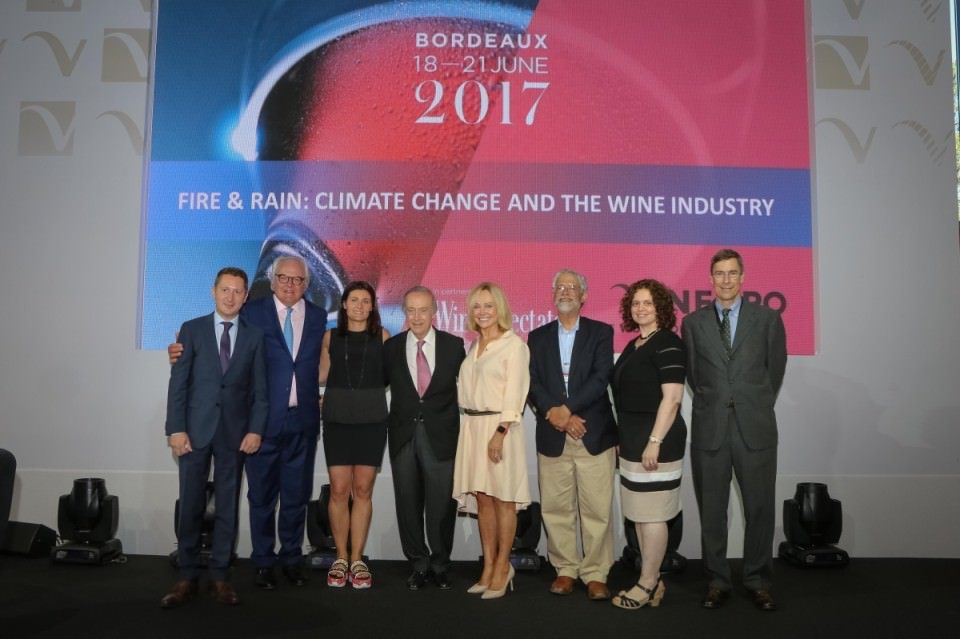 'Vines are like thermometers'
Vinexpo 2017 in Bordeaux opened with a dramatically headlined panel discussion on Day 1 entitled Fire and Rain on the hot-button issue of climate change. Spain's Miguel A Torres president of Bodegas Torres, Harvard physicist, climate change expert and advisor to Barack Obama, Professor John P. Holdren, Italy's Gaia Gaja, co-owner of Gaja Winery, and Kathryn Hall, former U.S. Ambassador and proprietor of Napa Valley's Hall Vineyards weighed in on the discussion moderated by Wine Spectator's senior editor Dana Nigro.
"Small changes can cause great havoc," said Christophe Navarre, president of Vinexpo, introducing the session. Undoubtedly at the back of everyone's mind was U.S. President Donald Trump's announcement about withdrawing from the Paris Accord.
Already of concern to the world at large, the wine industry has been experiencing the backlash from changes in temperature across wine producing regions around the globe. "We have seen climate change and its fallout for 200 years now," said Holdren, "We've known for decades that it must be addressed; human acts are causing this." The changes will get worse, he added: the frequency and range of heat waves are increasing at a scary pace; productivity is affected; there is increase in pollutants, the number and intensity of storms, floods and droughts: catastrophic impact everywhere. "Higher than average temperatures, torrential downpours which damage crops and cause devastation, a great increase in pests and pathogens, more carbon dioxide released through deforestation and burning of fossil fuels. And geographical boundaries will be altered."