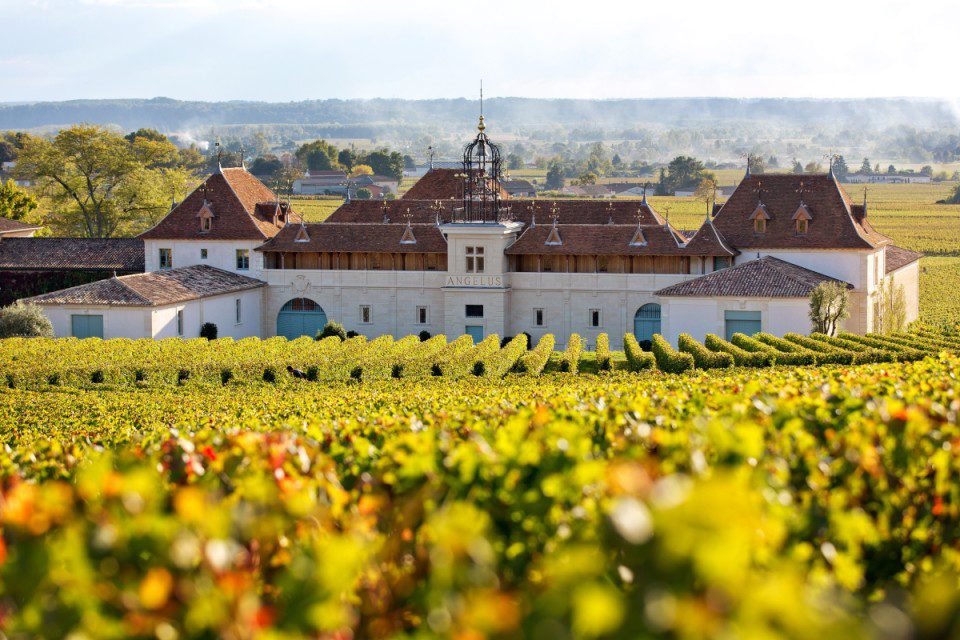 On his visit to India, I chat with Hubert de Boüard de Laforest about his beloved Château Angélus; about India, about the year he got 100 points from Robert Parker, and how Angélus dethroned the vodka martini as James Bond's favourite sip.
Three years ago on a visit to Saint Émilion, that gorgeous medieval UNESCO World Heritage village on Bordeaux's Right Bank, I was fortunate to get an appointment for a visit and tasting at the iconic Grand Cru Château Angélus. As we waited outside for our visit to commence, the bells of Angélus came alive, pealing forth the majestic notes of the Indian national anthem. What an unforgettable welcome –  thrilling and (I must confess, though they do it for most visitors) quite emotional. More delight was to follow during the Angélus winery tour, ending with a fabulous tasting in the sunny tasting room, overlooking the newly renovated gardens of the château.
For those who want to get a quick refresher about Angélus, here is a brief snapshot: elevated to the topmost levels of the Right Bank pecking order in 2012 – Grand Cru Classé A, Angélus is a family-run estate owned by Hubert de Boüard de Laforest and his cousin Jean-Bernard Grenie, now joined by the youngest (8th generation) cousins, Stéphanie de Boüard-Rivoal and Thierry Grenié de Boüard.
Hubert de Boüard de Laforest, besides being winemaker of an emblematic estate famous for its Cabernet Franc-dominated wines (most Right Bank wines have a higher percentage of Merlot), is regarded as one of the most knowledgeable winemakers in Bordeaux. Not content to administer to his own many estates, de Boüard consults as a flying winemaker to a mind-boggling 84 wineries in France and around the world, some as far afield as Lebanon. This is what gives him both the knowledge and indeed, a 360 degree vision of the world. Tutored in oenology at the Faculté d'Oenologie in Bordeaux by the legendary Émile Peynaud, de Boüard likes to refer to himself foremost as a man of the vineyards: this is where he is happiest. Nonetheless, what is evident is de Boüard's ability to combine his expertise in the vineyards with marketing savvy.
Before sitting down to a superlative Chateau Angélus-paired dinner at Le Cirque at The Leela Palace, New Delhi hosted by Delhi oenophile Rajiv Kher, I had a chat with de Boüard .
Some excerpts.
Why India? Why now?
I last visited India 12 years ago, and there have been big changes. But this is a good question: why India? I was faced with the same question when I visited China years ago – I  was the first one to visit there from the Right Bank (of Bordeaux).
I do believe India is the new market for the great wines of Bordeaux. I can feel the interest in wines here. People always ask, "now which is the new market for Bordeaux wines?" Many say South America. I don't know. I believe the world is changing, changing fast. And France and India have always had good relations and no negative history.
We expect to come back every one or two years until the markets will open more…
With Asia looking to buy more Bordeaux, and Bordeaux looking for new markets, how do you intend to supply any growing demands for Chateau Angélus? With your second wine, Carillon d'Angélus, or perhaps through some other strategy?
For Angélus, there is nothing we can do to increase production, but I'm expecting more Carillon in the next few years to help. I do believe Asia will be a growing market, not only for Bordeaux, but for all other makers of good wines.
I have spent the last 30 years trying to be one step ahead of the others, and I think this will carry us through. It's about education and awareness-creation, so we are optimistic. We know our own vineyards and our quality is always consistent – our brand creates our confidence!
What has happened with the US politically, with Brexit, and in France and Europe with the rise of the extreme right; it's all a little scary, and it is not the way we like it. I love Asia, and I know our wines. So far things are okay for Bordeaux, but who knows for the future?
After all, wine is a necessity in life – it's a pleasure. If something bad is happening in your life, wine isn't a priority. (more…)