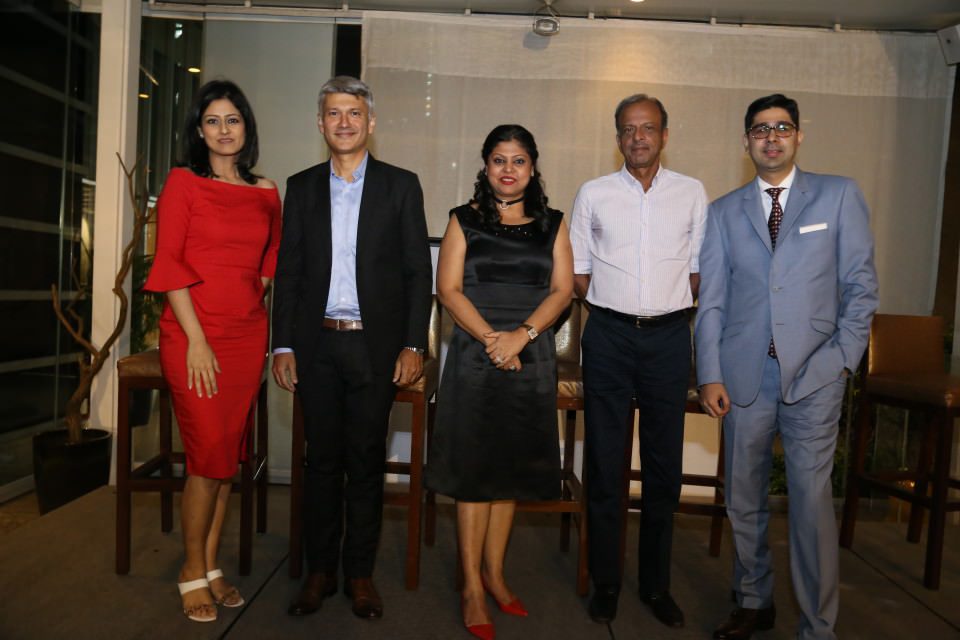 …and celebrating the winemaker! Sonal Holland's recently commissioned survey, the Indian Wine Insider 2017, seeks to throw light on how far the urban Indian wine drinker has come. She is also chairing the India Wine Awards 2017 which rewards the best in class available in India today.
Sonal Holland officially became India's first Master of Wine (MW) last year, and ever since, she has been on a mission.
Already headlining her own wine school, the Sonal Holland Wine Academy (an approved programme provider for the noted wine school, London's  Wine & Spirits Education Trust), she turned to conceptualizing a wine club in Mumbai, the SoHo Wine Club. This was aimed at curating wine-centric events and spreading the good wine word among consumers eager to know more. Soon came the Delhi focused delWine Excellence Awards where Holland teamed up with convenor of the Indian Wine Academy, Subhash Arora, and Sourish Bhattacharya, well-known food columnist and critic, to award the best names in Delhi's food and wine scene in a glittering, mammoth awards ceremony at New Delhi's Pullman Aerocity a few months ago.
On her list of to-do things remained one important act – to create a survey which allowed the wine industry and eager consumers to understand one another. The Indian Wine Insider 2017, a survey of the urban Indian wine consumer was launched on 14 March 2017 at the Four Seasons Mumbai with a panel discussion on 'What the Consumer Thinks & Drinks,' a conundrum on every wine marketer's mind.
The results were watched with interest in India, and I am sure that wine producers around the world, eager to tap into India's huge, middle-class population, were also logged on, especially in the light of the fact that between 2010 and 2015, the Indian wine industry recorded a double-digit compounded annual growth rate of over 14%.With Europe's growth in wine sales topping out, wine producers worldwide are constantly looking for new frontiers to conquer.
The IWI 2017 research project personally interviewed 878 urban wine consumers across 5 major consumption centres of Mumbai, Delhi, Bangalore, Pune and Goa  with the aim of understanding their awareness levels, attitude and usage of wine.
Some key findings of the survey included:
Price leads the criteria for consumers selection of wine. Other cues include familiarity of brand name, country of origin and colour of wine.
Wine is increasingly a 'mainstream drink' and is being consumed across a wide range of occasions, both at home and at restaurants/bars. Increasingly, many consumers are opting to drink wine at home, indicating a move towards changing cultural mindsets. Wine is being regarded as cool, aspirational and a healthy beverage.
More than 50% consumers order wine exclusively by the glass – partially perhaps because of price sensitivity and lack of extensive wine knowledge which would allow splurging on bottles.
Consumers preferred international wines over Indian, indicating low awareness of Indian wines and their improving quality, as reflected in the number of awards being won in international competitions.
Women are buying as much wine as men are.
Younger consumers (25-34 year old) are buying just as much wine as their older, more affluent and wine-educated counterparts (45+ years).
Red wine sees highest consumption, underlining that the health aspect of wine is a draw.
In a brief but interesting chat, I spoke with Holland on what the results of the survey indicated to her.
The survey shows that India is still very much a nascent market when it comes to discovery and regular drinking of wine, but that it is growing. Which response in the survey did you feel most encouraged to see and why?
SH: The survey shows that wine is being drunk across a variety of occasions, despite the price sensitivity of the Indian market, wine is progressively becoming a mainstream drink. People are increasingly turning to wine to entertain guests, to drink at home, with a meal, at a pub, a party. At home, consumption is also getting more frequent – wine is being opened on everyday occasions, not only for special ones. People are choosing to drink a glass of wine with a meal. This is fantastic. I believe home consumers can give wine sales a big boost, and so producers do not need to depend only on restaurants. This is something that is commonplace in the west, and for the first time we are seeing this in India.
Another positive trend in the survey – 65% say they have gifted wine at least once. This shows wine is getting accepted as a gift that has class associated with it.
So it looks like wine education seems to be the need of the hour – an educated consumer would perhaps be open to buying and exploring more, being more adventurous in trying newer varietals and styles. But 'education' itself is a stuffy word. Any ideas on how it can be tackled  most effectively vis-à-vis consumers?
SH: I don't believe that consumers really want education: I believe they want 'edutainment' more than education in its purest form. So a wine dinner where the winemaker discusses terroir, soil and aromas – no. A consumer wants to enjoy his wine, maybe with some wine trivia added which they can apply to their everyday lives.
I believe that the wine industry needs to change the existing format into a form of edutainment that is casual. Even in my SoHo Wine Club, I keep events interactive and enjoyable – and not too heavy on the technical details.
Women and wine in India. Another aspect that the survey has focused on. Your comment?
SH: Women are taking to wine in a big, big way. Perhaps this is for different reasons – health, a sense of cool, the attraction of drinking something that is lower in alcohol than spirits are… Whatever be the reason, the wine industry needs to target women more. Keep this focus simple and fun. Look at the way wine is marketed – serious, stuffy and intimidating. While a vodka party is simply that – a party. Wine marketers need to rethink this and focus on this market segment…
Wine by the glass. Much needed in any emerging wine market to drive growth and increase awareness and your survey has underlined that. But it is still fairly neglected by the Indian hotel/bar/restaurant industry. Any comments on how to push this forward?
SH: This answer is simple – restaurants and hotels need to widen their wine by the glass selection. We can see that in the survey's statistics – less than 20% people surveyed order wine by the bottle, and over 50% order wine by the glass. I agree there might be issues of spoilage and storage, but this needs to be addressed and good wine by the glass programmes put in place in food and beverage outlets.
Let's focus on youth – young people are taking to wine and that's a good thing. But the older, more evolved drinker is the bigger spender and drives growth, so remains centrestage. Any ideas on how to shift focus and drive this 'youth' market a little more? 
SH: Yes, take the segment of 25-34 year old wine drinkers: we aren't paying enough attention to them. We just assume that the wine drinker is 45+ years old and ready to pay for that bottle of wine. But the 45+ is not your consumer of tomorrow. The survey shows that the 25+ is purchasing wine as often as the older wine drinkers. He is very aspirational and will transition easily, seeking more quality as he gets exposure. If we can tap into the younger segment of wine drinkers, the future of our wine industry is bright.
This is a welcome start to understanding the Indian consumer. How often do you intend to conduct this wine consumer survey?
SH: I intend to do this survey every year – this year I commissioned it on my own and gave it as a gift to the public and the wine industry. I will continue to do the survey on an annualized basis. I'm hoping to have it commissioned for me in future. There is huge potential in that.
As I'm uploading this blog, Sonal Holland is busy organizing her second collaborative event with Subhash Arora and Sourish Bhattacharya. The India Wine Awards 2017  aims to 'recognize, reward and celebrate excellence in wines.' Over 300 labels from Indian wine producers as well as a range of international wines imported to India have been put to an exhaustive blind tasting test, and there is a separate section on wine paired with Indian food. The results will be announced on April 22nd in Mumbai at an award ceremony at Sofitel BKC.
Watch this space for more.
You might also like