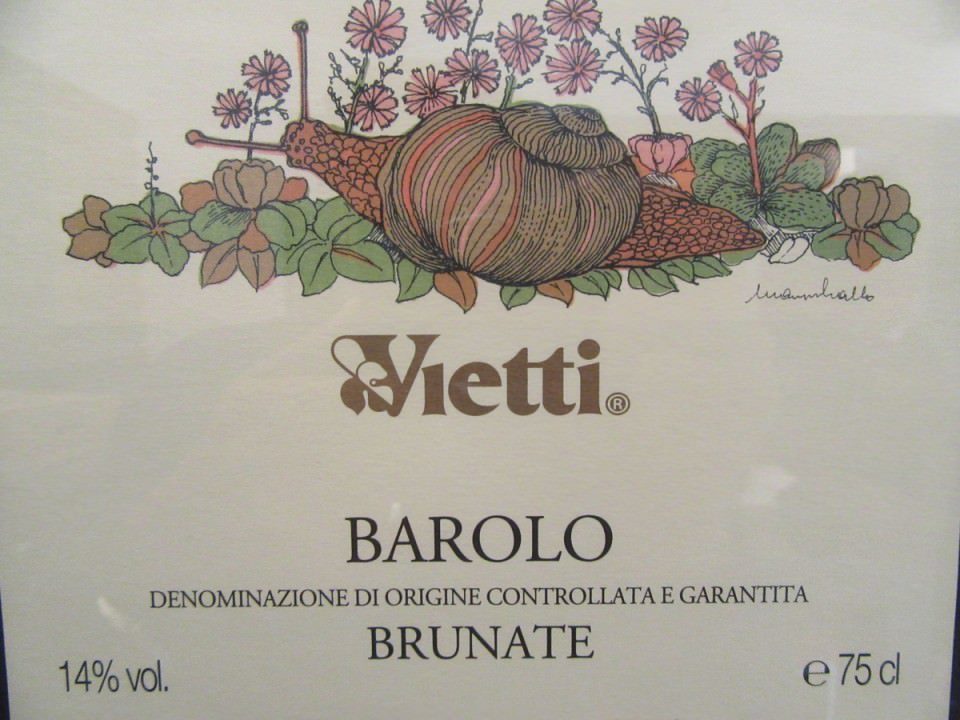 A stellar tasting at Barolo's famous Vietti winery underlines the Carrudo family's love for tradition combined with some out-of-the-box thinking
On a misty October morning in Piedmont, we got into our car at Benevello and drove several miles through lush, green countryside studded with vines heavy with bunches of perfect, purple grapes. A narrow, winding road took us to a cul-de-sac facing a castle on a steep hill. This was the heart of a charming medieval village Castiglione Falletto, one of Barlolo's legendary communes, its surrounding vineyards producing wines which count amount the best produced in the already high-quality region of Barolo. And on the top of that list you find Vietti, a multi split-level winery situated adjacent to the castle atop the hill. Indeed, on a clear day you can see the ancient imposing castle atop Serralunga d'Alba (another famous Barolo commune).
Vietti is available in India though limited to a label or two, mostly because its top range is so very highly priced and coveted. What was interesting was while I was reading up about the family-run company, currently headed by third generation winemaker Luca Currado and his wife, Elena, I came across an interesting fact: in mid-2016 the Currados had sold Vietti in its entirety to an American businessman-investor, Kyle Krause.
This caused a huge uproar in the small, intimate wine community of Piedmont, where virtually every winery is family run, often for generations. Noted wine critic Antonio Galloni of Vinous had penned a passionate article on the sale, the first ever one of its kind by a major producer in Piedmont, dramatically titled The End of the Innocence, where he puts forth his case against what he calls the 'Bordeauxification of Piedmont' – the selling of wineries to foreign investors. Never mind that the Currados had stayed on to run the business and make the wines. In fact every Piedmont winery I visited subsequent to Vietti showed great curiosity about my visit there.
We walked into the Vietti winery and paused at the edge of its wall overlooking the almost-perfectly geometric rows of intersecting vines in the valley below. Standing here, it seemed hard to believe that things might ever change. Right now, not much has. The Currados remain firmly in the drivers' seat. Elena continues to be super-busy with her marketing job and family and Luca tends to the winery when he isn't travelling. He's very much present now as harvest is on and truckloads of grapes have already begun to come in: Arneis, Dolcetto and Barbera started a fortnight earlier, and now it's time for the majestic Nebbiolo.
Elena recounts to us a brief history of Barolo. "Our family always invested in vineyards, and today we can access 15 single vineyards for our Barolo – this is unique, and gives us a great choice when we vinify. Our grandfather wanted to plant our flag in the best vineyards. He was very forward thinking." Another first: Vietti was among the first to vinify grapes from single vineyards – Rocche, Brunate, Villero among others when it wasn't even fashionable to do so.
We love Barbera
Vietti is unusual among the Barolisti In that they lavish much love and attention on their Barbera wines. "It can be a great wine if planted in great sites and handled well," says Elena. "Vietti made a huge difference to the respect that Barbera as a grape gets today. In fact, people thought it was a crazy idea to grow Barbera instead of Nebbiolo within Barolo." Considering the princely sums that the prime Barolos command, this rings true. But then, Vietti is different.
Besides their Barbera d'Alba wines, they also make an "out of the ordinary" Barbera in Asti (also known for its spumante or sparkling wine). Barbera is one of the easiest wines to pair with food, hence is considered a serious food wine. The difference between the expressions of the grapes is summed up later by Luca: "Barbera d'Alba is intense, elegant and floral, Barbera d'Asti more meaty, rich and intense."
…and Dolcetto
Dolcetto is frequently described by the Barolisti as an 'everyday drinking wine' – there's no way even the locals can drink their complex, rich Barolos every day. "Dolcetto may be simple but it needs to be good," says Elena. "If you make a good Barolo, you can't make a poor Dolcetto – the image of your winery must be consistently good for all the wines you make – from the bottom to the top irrespective of the price." The new age consumer is savvier than ever, she adds. "I think they might say, let's see how (a winemaker's) entry level wines taste. If they are good, we are happy to spend $300 on the Barolo."
Luca appears as Elena excuses herself to run some pressing errands. He's clearly been working in the winery, looks rumpled and a little tired but his crinkly-eyed smile lights up his face. We do the winery tour with him; the steel tanks (primarily for their white grape, Arneis) are on the first level of the winery. The second levels hold the French oak barrels kept for malolactic fermentation, and also the big old Slavonian botti so essential to Barolo winemaking – as they impart a more neutral and less aggressive taste of oak than do barriques. Barrels are important, but don't overplay their importance, believes Luca. "Wine must reflect the soil, not wood. 80% of all wine is made in the vineyards. If your grapes are good, you have all you need right there." In the botti, the wine rests for at least 24 months (18 months is the minimum required by DOCG law); then Luca does blind tastings to help him decide how to blend and evaluate each cru's offerings. Vietti doesn't have an entry level Barolo – but they do have a Langhe Nebbiolo, which to all accounts but pricing reflects the main qualities of a Barolo.
The Vietti portfolio tasting
Winery visit done, we move to the cheery tasting room, with its red stools, stacks of books and lined with bottles of Vietti, old and new.
Luca officiates; we begin by tasting the Vietti Barbera d'Alba Vigna Scarrone 2013, one of Vietti's vineyards within Barolo dedicated to the Barbera grape. It is richly rounded, beautifully structured and a truly delicious food wine.
Just for contrast, Luca picks the Vietti Barbera d'Asti La Crena 2012 (from another Barbera vineyard in Asti) next, and the difference is apparent. This one is more acidic, richer, though the winemaker's touch is consistently evident. (Barbera can no longer be called Nebbiolo's country cousin, as top Barberas go for $30-50 a pop.)
It's time for the big boys: we commence with the gorgeously intense Vietti Barolo Castiglione 2012, the Nebbiolo grapes assembled from Vietti vineyards in Castiglione Falletto, Monforte d'Alba, Barolo and Novello and aged 26 months in oak before release. Luca explains, "We have 15 Grand Cru vineyards, some of these grapes we make into single vineyard cru wines – Rocche, Brunate – each is vinified and aged separately for 3 years. Then we select 5-6 crus and create the Barolo Castiglione – a blend of our best Grand Cru Barolos," he says. "The alternative is to make the Perbacco, our second label, called Nebbiolo Perbacco (their Langhe Nebbiolo). The quantity of production changes each year: we decide at the last minute whether to go with Castiglione or Perbacco. Perbacco is our best value wine by far." Go for this one if you're not yet ready to splash out of Vietti's top-end Barolos.
Vietti labels are strikingly different from the usual Barolo: cheery and colourful. "Barolo," says Luca, "Being considered a serious wine, always had its labels in black & white, until we at Vietti started putting colourful labels – drawn and painted by our local artists." Each year certain wines get an exclusive label by a well-known artist and the artwork is used just for that particular vintage.
We end our tasting with the Vietti Barolo Brunate 2012, which he describes as "very Burgundy" in style: softer tannins, more rounded and delicate. Brunate is based in the Barolo commune of  La Morra, expressing classic Barolo 'tar and roses' flavours, with a smooth, velvety texture. Finally, the Vietti Rocche di Castiglione 2012. These wines are still young but hugely promising – baby Barolos, growly gently and inexorably into the great wines they are bound to be in a decade or even more.

Tasting done, it's time to drift off down the winding streets of Castiglione Falletto again, away from the fairytale castle atop the hill. Before that, Luca generously extends an invitation to join them for lunch at a nearby restaurant where they are meeting friends. The thought is tempting, but how much gorgeous Barolo can you drink in a day? That's not a rhetorical question. For myself, my cup literally runneth over.
As we walk to the gate, I ask him if he plans to be around, obliquely questioning his future plans, the thought that so concerned Galloni and other Barolo lovers. "Of course I will be. I do travel a lot, but winter is a difficult time in the vineyards at Barolo. I must be here," he replies matter-of-factly.
And here, I hope, as do millions of other Barolo lovers, he will stay.
The Barbera d'Alba Tre Vigne 2013 is available in India, Rs 3991 ++ in major cities ($60). The Vietti Barolo Castiglione 2011 is available starting Rs10,465 ($160).                                                  
Just as I finished this article, Luca tweeted his joy about receiving 100 points for his Vietti 2013 Barolo Ravera from Antonio Galloni. Not for the first time; the 2010 vintage also received 100, and other Vietti Barolos have been sweeping the accolades with near-100 scores. More scores of 100 come from the Wine Advocate and other wine critics.
It is possible to visit Vietti winery by appointment only. Write in to info@vietti.com or call +39.0173.62825
You might also like