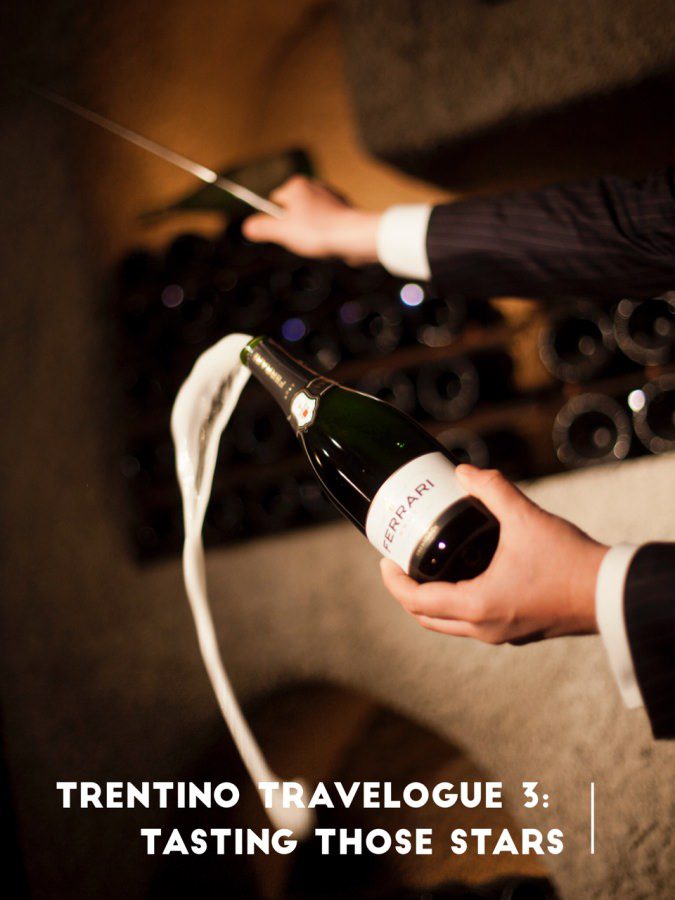 The 4-day Ferrari whirl winds up with a fascinating and instructive comparative tasting of top champagnes and sparkling wines… and then there's the food it's paired with….
THE TASTING OF TRENTO
On the last day, the team at the winery had put together a very special comparative tasting of champagnes and sparkling wines of the world. Undoubtedly, this was the high point of the trip for most as it underlined in very simple terms that Ferrari's assertions of making world class wines were not just slick verbiage. In fact, this was a smart move to get everyone to put their palates to work and affirm the Ferrari quality, benchmarking their wines against famous sparkling wines.
Non-Vintage Cuvées
Ca' del Bosco, Cuvée Prestige, Franciacorta
Ferrari Brut NV, Trentodoc
Letrari NV, Trentodoc
Moet & Chandon Brut Imperial NV, Champagne
Veuve Clicquot Ponsardin Cuvée Brut NV, Champagne
Franciacorta is another noted metodo classico Italian sparkling wine region – one that has long established its quality creds. The popular Ca' del Bosco (75% Chardonnay, 15% Pinot Noir, 10% Pinot Blanc, 25 months on lees, $40 in the US.)  was approachable, clean and elegant, a good aperitif wine.
Both the Letrari (blend of Chardonnay and Pinot Noir, 24 months on lees), showed austerity and a definite character of its own) and the Ferrari Brut NV (100% Chardonnay, delicious and delicate) fetched up at $22. The Moet & Chandon NV Brut, a blend dominated by Pinot Noir and Meunier, was characteristically rich, austere and deliciously more-ish, while the nicely-balanced Veuve Clicquot, also Pinot- led, was the highest priced at $45. "All five show their region's typicality," said Ferrari winemaker Ruben Larentis, and he was right. The Ferrari Brut NV, the only blanc de blanc, held its own and did not lag behind the champagnes. "Our heritage is of Chardonnay," said Marcello, "This was established by Giulio Ferrari 100 years ago, and we still maintain it."
Non-Vintage Rosés
Berlucci Cuvée Imperiale Max Rosé, Franciacorta
Piper Heidsieck Rosé, Champagne
Ferrari Rosé, Trentodoc
Laurent-Perrier Cuvee Rosé, Champagne
"Rosé is fashionable, yet hard to make," said Larentis. Ferrari was so confident of its rosé that the Lunellis didn't hesitate pitching it against those from famous Champagne houses.
And the difference in styles was apparent right away – from the dosage to the varying exposure to skin and must. The Berlucchi ($28) was intense and elegant, while the glorious perfect pink of the Laurent-Perrier underlined its intensity. Ditto the Piper-Heidsieck (both in the range of $50-68). The pearly pink Ferrari rosé seemed simpler at first; on sipping revealed a long finish and notable complexity. It also won on its price-quality ratio at $22.
Vintage whites
Cavit Altemasi 2011, Trentodoc
Ferrari Perlé 2009, Trentodoc
Delamotte Blanc de Blancs Vintage 2007, Champagne
Moet & Chandon Grand Vintage 2008, Champagne
Timw for another lot of wines to be poured – vintage white sparkling wines. The Cavit ($26) though benefitting from its 36-48 months aging seemed a little tentative on the palate. The top-rated Delamotte Blanc de Blanc at $36, was rich, creamy and delicious ($90) and I preferred it to the Moet & Chandon Grand Vintage 2008 ($90) a new release, which tasted fairly closed at time of tasting. Dominated by 40% Chardonnay, it was the only non blanc de blanc in this category. The Ferrari Perlé held up well against the big names, showing promise of getting even better with time. "2009 was a good vintage. It will improve further," said Larentis.
'
Top Cuvées
Bellavista Vittorio Moretti 2008, Franciacorta
Dom Pérignon 2006, Champagne
Giulio Ferrari Riserva del Fondatore 2005, Trentodoc
Taittinger Comtes de Champagne 2006, Champagne
 Enfin, time for the heavy hitters category.
"We are adventurous, putting our wine between two champagnes," commented Larentis. Yet the Giulio Ferrari Fondatore '05 ($120), with its intense colour and complexity on the palate – toasted nuts, spice and fruit even now – acquitted itself well. "Very distinct character and style." The 3g sugar and 10 years on lees made it the perfect food wine for all occasions
Wood aging came to the fore with the Bellavista (58% Chardonnay, 42% Pinot Noir, $131), and its rich, expressive style, with hints of honey and banana wrapped in the characteristic Franciacorta elegance got approval. The Dom Pérignon '06 (55% Pinot Noir, 45% Chardonnay, $174) perfectly combined freshness with its signature rich intensity. Wonderful acidity and toast notes made it a crowd favourite. The Taittinger Comtes '06 ($171) had all the fresh cleanness of a signature blanc de blanc – with 8-10 years aged on lees.
FOOD GLORIOUS FOOD
I cannot close on my travelogue on Trentino and the Ferrari winery without a mention of the food I tasted in those 4 days.
Where there's good wine, there must be good food. One really calls for the other – ask the Italians. Ferrari's sprawling portfolio of noteworthy wines meant the food needed to be up to scratch.
Here I must doff my hat to Chef Alfio Ghezzi, Chef of the Michelin one-star restaurant, Locanda Margon, nestled on the wooded landscape above Trento, not too far from the winery. The restaurant is also owned by the Lunellis,
What was remarkable about Chef Alfio was his industrial strength capacity to put together stunning meals… aperitivi would precede lavish lunches, which in turn would merge into dinners –  4 or 5-course silver service repasts for 60-odd guests. On the day of our Villa Margon visit, Chef Alfio moved into a nearby makeshift kitchen from which he dished out a memorable sit-down lunch for 60 of us in Villa Margon's Carlo V hall with just a skeleton staff to assist. Then he dashed back to Locanda Margon to await us all with broad smiles and another stellar 4-course dinner that evening. "He's incredible," said one Lunelli staffer admiringly, recounting tales of Ghezzi's 18-hour marathon catering sessions at different venues. Truly, nothing seemed to faze Chef Alfio, and there was nary a wrong note or discordant matching of food and wine that we were subjected to.
A look at our Locanda Margon dinner menu:
Roasted green celery and smoked eel, tomato, Ulidea olive dressing and Tosazu vinegar with Ferrari Perle Magnum 2009.
Home-made ravioli Amatrice-style (there is a pan-Italy movement by Italy's top chefs to support the victims of the Amatrice earthquake by recreating versions of pasta all'amatriciana for their menus and offering proceeds from its sales to the earthquake fund.) with Ferrai Perlé rosé Magnum 2009.
Veal fillet, porcini mushroom, potato, spring onion with  Ferrari Perlé Nero 2008.
Strudel pie 'Like an apple' with Ferrari Maximum Demi-Sec.
This was just one very special gastronomic experience in a weekend filled with many such.
*Prices of wines are indicative, collated by the Ferrari team at time of tasting.