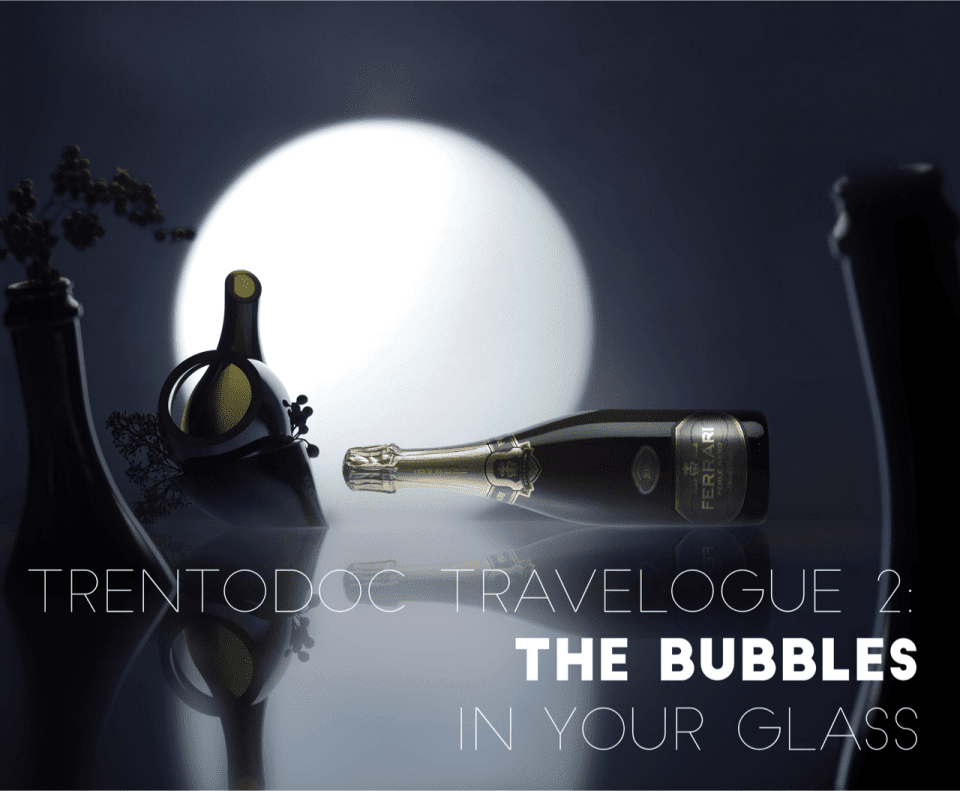 The winery visit, a thrilling helicopter ride, the Ferrari portfolio tasting, a walk in the mountains through the vineyards, a bee story and some bubbly facts… a couple of busy days at the Ferrari Trentodoc symposium in Italy's Trento
Learning about Ferrari: Day 2
After a tour of the winery  by Marcello Lunelli ( I just loved the remuage or riddling section with lots of antique winemaking machinery lovingly preserved from Giulio Ferrari's days – some actually looked like torture instruments!) came the time for the Ferrari portfolio tasting. The cellars alone cover 3 hectares, I believe.
Here is a summary:
Ferrari Brut Trentodoc NV
The standard bearer of the portfolio. 100% Trentino Chardonnay, 24 months on lees. Crisp apples and pears on the palate with gently underlying notes of toast, nicely balanced. One must agree with Matteo Lunelli when he said, "It's easier to produce a bottle of Riserva than to sustain continuous excellence in your non-vintage wine." NV Brut, made year on year, must echo the same taste, structure and balance without missing a beat. There can be no allowance for bad vintages or any other excuses. The Ferrari NV was, to quote Marcello, "A perfect expression of Trentodoc. One sip should call the next." It did.
Ferrari Rosé Trentodoc
60% Pinot Noir is known as Pinot Nero in Italy, dominates this delicate blend. This expression is a result of short skin contact (10-14 hours). Fresh red berries on the nose and palate in an elegant  copper-pink appearance. "Assuages the palate," said Ferrari US brand ambassador Jamie Stewart (an absolute tearaway with his 120km per hour nifty vocabulary, as we soon discovered to our delight). It did.
Ferrari Perlé 2009 Trentodoc
I have a weakness for a perfect vintage blanc de blanc and this one ticked all the right boxes. All the Chardonnay grapes used were from Ferrari's own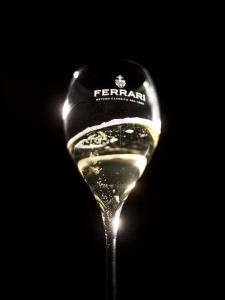 vineyards, and with long ageing on lees, the aftertaste was longer than Rapulzel's tresses (descriptor inspired by Jamie!) Lovely acidity and complexity.
Ferrari Perlé Rosé 2009 Trentodoc
Vintage rosé with the 80% Pinot Nero showing up in all its strength and body, a velvety, elegant mouthfeel and hints of brioche with striking acidity and 6 grams of sugar. A minimum of 5 years on lees and it shows. No weakling this, very delicious and very more-ish. "Fullest expression of our mountain Pinot Nero," said Matteo Lunelli. "Without dosage, or by reducing it, it's easy to go deeper into the terroir or soul of the wine." As a rule, the house style of all Ferrari sparkling wines dictates lower dosage than usual – somewhere between Brut and Extra Brut. But the winemakers felt that dosage was important for the wine. "Sugar helps the wine unfurl, makes it more flirtatious. But the harmony in the mouth shouldn't come from sugar, but the grape," says Matteo Lunelli. Higher dosage also doesn't work with food, and the Lunellis are emphatic that their wines are food wines too. They are.
Ferrari Perlé Nero 2008 Trentodoc
This is Ferrari's only blanc de noir, rich textured and creamy with distinct autolytic notes, made in the extra brut style (2.5gm sugar). Distinct berry and candied fruit on the nose and palate too, and a long, long finish. The Pinot Nero grapes are from the Lunelli's highest mountain vineyards, including Villa Margon.
Ferrari Riserva Lunelli 2007 Trentodoc
A 100% Chardonnay from the Villa Margon vineyards, the wine spends 7 years on lees and has developed oodles of intensity and strength along the way. "Our first fermentation is in gently toasted oak barrels – we give respect to the fruit," said Matteo. Creamy and long on the finish. "The older vintages are the most emotional part of our tasting," said Ferrari winemaker Ruben Larentis. "This can age longer, and if it continues to develop like this, it will be one of our best vintages."
Giulio Ferrari Riserva del Fondatore 2005 Trentodoc
They tell us this, their flagship vintage wine, can "stand up to the challenges of time," and this can well be believed.  It spends a whole decade on lees and does an awful lot of growing up in the process. Extra brut (3 grams sugar), this one was referred to as "the pinnacle of production." Sounds dramatic? Not once you taste it. "Here's an architecture of aromatics and vinosity. Still young and fresh on the palate… lots of tropical roasted pineapple, lychee and white chocolate," added Stewart.
Yet, "each wine has its distinct character," said Matteo. "Longevity is a character of Trentodoc and comes from our distinctive terroir."
Day 3: Bubbles in the marketplace…and up in the air
The venue for a packed, diverse Day #3 of the symposium was Villa Margon, the Lunelli's 16th century Renaissance villa with a lovely old chapel, surrounded by their premium vineyards.
First up came the presentation into mountain agriculture and sustainability, so important to the Ferrari ethos. So keep the cardio going, we headed for an adrenalin-churning helicopter ride over the vineyards followed by a memorable walk through the vineyards surrounding Villa Margon. There was a fascinating presentation on biodiversity from Professor Gianfranco Caoduro of the World Biodiveristy Association, and a glimpse of the Lunelli's work with bee biodiversity (The bees pollinate biodiverse plantings between the vines which ultimately go to enrich the soil).  We got up close and personal with the bees and even managed some queen-spotting. "We want more than good grapes – we want a good environment too," said Marcello.
After another wonderful lunch in the historic halls of Villa Margon by Chef Alfio Ghezzi (more about him and his food in the third blog) came Camilla Lunelli's presentation on the state of sparkling wine in the world today.
Some highlights:
♦ 2009 was a significant year in the world of wine, she said: Italy dethroned France as the world's largest wine producer by volume. However in terms of export, France remained tops, exporting US$ 3.281 million worth of wine compared to Italy's 1.093.
♦ Sparkling wine figures that followed were interesting: in 2015, still wine continued to dominate global trade figures at 82%, with sparkling wine rising at 18%. (According to Il Corriere Vinicolo's Wine By Numbers survey, "The leading trio included Italy, France and Spain. Thanks to Prosecco, Italy increased its volumes by 15%, reaching a 40% share on the total aggregated amount of the top 10 countries. France was also growing well, benefitting from the recovery of Champagne, definitively out of the recession experienced between 2009 and 2012.)" France is now importing quantities of Prosecco, added Camilla.
Italy, sparkling:
♦ In Italy, almost all the 330 Italian DOC and 74 DOCG allow sparkling wine production. This corresponds to 2110 labels from 600 wineries across Italy.
♦ In 2015, Italy produced 700 million bottles of all types of sparkling wines, a 35% growth over the last 10 years. Of this 675 million bottles was by the Charmat or tank method (mainly the uber-popular Prosecco) and 25 million (4%) were by metodo classico. Of this 25 million, 16 million was Franciacorta and 7.3 million Trentodoc. (Source Forum Nazionale Spumanti  2016).
♦ As far as imports went, the significant trend in the last 15 years was UK's steadfast love for bubbles – mainly Prosecco. In Italy, where red wine is revered and drunk in copious quantities, sparkling has also been seeing a steady upsurge, added Camilla. "In Italy, sparkling wine is linked to the last part of the year – Christmas and the holidays." The Ferrari production had to increase to keep up with the demand, but "our problem was to find quality grapes – so we began convincing growers that they would make more money by growing less but better grapes. Today, trust has built along with our partnerships."
On whether following the  organic path has been an advantage, she said, "We believe in organic cultivation but we don't believe it's the weapon to break through in growth. In fact, being organic might well be almost a standard for wine tomorrow and be taken for granted."
In which case Ferrari, already with their commitment to sustainability  will find themselves at an advantage.
You might also like