The power of a simple idea – of making handmade paper out of grape waste – led Adrian Pinto to quit his happy wine industry job and go grape-innovator. Now with the patent under his belt, people are stopping to listen
A couple of years ago, Adrian Pinto, busy with his life  in the wine industry in India (senior manager, Pernod Ricard India), had an epiphany. And it had to do with grape waste – the seeds, skins and stalks left over after winemaking. It happened while he was reading about, in his words, 'elephant poo.' "I would see these mountains of grape marc accumulate at the wineries after the winemaking process, which we were paying people to take it away. I thought to myself, if paper can be made from elephant or rhino poo, why can't it be made from grape poo?"
Indeed. Why not?
Pinto's kids were small, and he needed to work to put food on the table, he says. But that didn't deter him for experimenting. "I downloaded information from the internet on how to make paper, and set about making it in my kitchen with a blender and some basic ingredients. It actually turned out pretty well. I initially used vegetable dyes – indigo to make a dark blue, spinach to make a green, haldi (turmeric) powder for yellow. The idea took hold strongly that I began obsessing over it."
What was amazing about it all was its simplicity, he adds. "The idea consumed me for 6 months and then I got back to my job;
but it stayed at the back of my mind. A friend who worked for a consultancy and happened to be working on a project with paper brought it up again with me. He said he'd be willing to buy the idea off me. 'Commercialize it, or sell it to me' he said. That's when I decided to go with it," says Pinto. "IIM Ahmedabad has an incubation course for startups; I thought why not apply there? It took me a year: I started researching grape waste. Grape marc or pomace has a lot of fibre and I wanted was to use the waste in its entirety. I was aware that wineries around the world were paying to get rid of their grape waste – to the tune of €25-35 per tonne." As a paper manufacturer, he'd be paid to take away his raw material, rather than pay to buy it. A win-win situation, surely.
Finally, Pinto did a patent search last year, found a lawyer and filed his patent. Now the idea of grape 'poo paper' or pomace paper, was legitimately his, his company called Green Paper Works. The finished product is food grade quality and chemical free. Paper, he believes, will always be a part of our lives, no matter how digitized the world gets.
I asked him how, considering the sheer simplicity of the idea, hadn't someone done it before? "Until recently the wine business was fairly boutique and location-centric, so most wineries would compost their own waste," he explains, "Now it's become a huge industry. It takes 3 or 4 years to compost the waste that's generated. If you don't get rid of it, it will become mountainous." To improve on the look and feel of his paper, Pinto has been adding grape leaves, water and textile waste (waste rags collected from hosiery units) to add body and texture.
Pinto's decision was to stay with the handmade look for his paper. He meets me on his way to attend the IIIF 2016 (International Innovation Fair, Bengaluru) to show me his handmade paper – the rough texture with tiny seedlets of grape pips embedded in them give an effortlessly authentic touch. Among the finished products, I love the very luxe-looking leather diary, bound by string, filled with heavy cream handmade pages. I'm even more impressed to learn that the pencil attached is made of wood from the vines. Pinto's growing range now includes wine gifting boxes, utility bags, bottle shippers, photo frames and lampshades – all customizable to specific needs. "I could design sets in the colours and styles of different wine companies – think of the value add for them to have their labels and boxes made from grape waste, which degrades into the environment in just 3 weeks – no more tree cutting! This could lead to a whole line of 'conscious gifting.'" Pinto refuses to use chlorine or bleach to dye his paper white. He believes that the paper irregularities have a charm of their own and he's right. Premier international wineries offer gifts which don't look not half as chic and elegant as these, and without the stamp of being ecologically friendly to boot.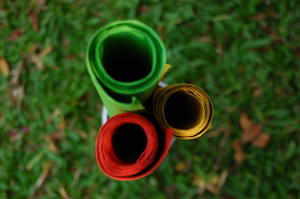 Pinto has received a few offers for his poo paper concept, but he is not willing to sell. "It's a matter of finding the right partner to back the idea, get some funding, and then the whole thing gets immense validation." Just look at the scale, he adds: there is 33 million tonnes of grape waste generated every year. "For every 2 bottles of wine, there's the equivalent of one bottle of waste generated. So 60 billion bottles of wine produced annually makes 33 billion tonnes of grape waste. And that's the tip of the iceberg – I'm not even looking at grape juice and other associated industries. That's just how big this idea is. I'm also keen to keep the 'make in India' tag. I want to make a change. One sheet of grape paper at a time."
More details about Adrian Pinto's Green Paper Works may be found at www.greenpaperworks.com
You might also like