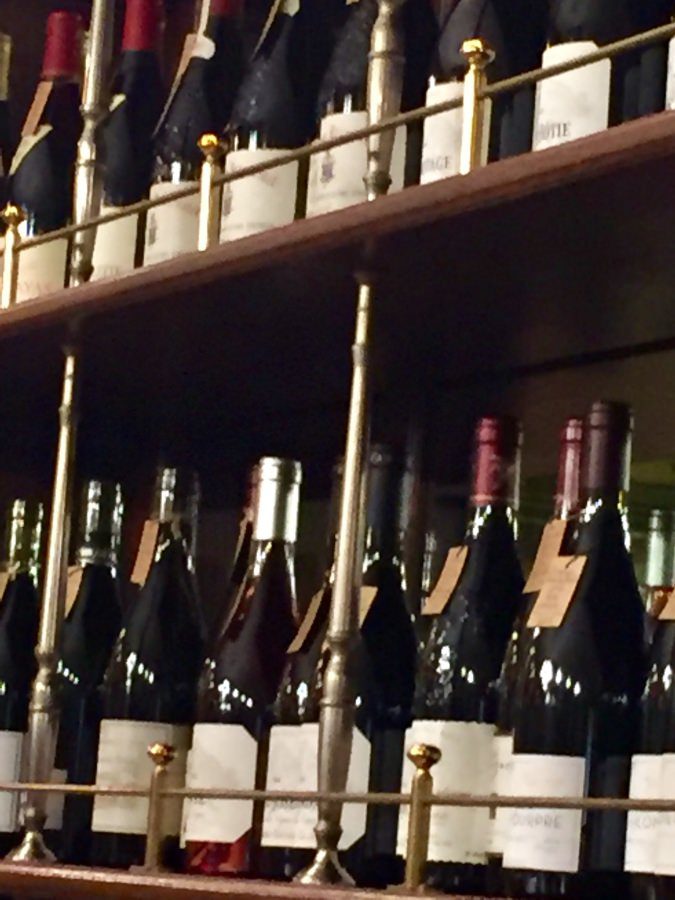 The family summer holiday in Norway and Paris  led to some interesting wine and food discoveries…..
Norwegian Mood
There's salmon, and then there's Norwegian salmon. And then, so much more. Like the pickled herring to the nutty caramelized brown cheese for a Scandinavian-style breakfast, or the all-seafood dinner spread put out for our group of nearly 300 – an eye-popping smorgasbord of deliciousness aboard a dinner cruise on the handsome Norwegian barque Statsraad Lehmukul anchored at Norway's prettiest, most historical city, Bergen. Later, we chatted with Fredrick Hald, executive chef in charge of product development of Lerøy Seafood, Norway's largest sustainable seafood producers and the world's second largest producer of salmon, who organized the dinner. He said that there was much more to Norway than their famed salmon (laks). They took immense pride in the quality of their cod and trout, for instance.
The seafood theme set the tone for a gastronomically indulgent two weeks in Norway. One notable meals was a short ferry boat ride away at a restaurant called Bekkjarvik Gjestgiveri (5397 Bekkjarvik), on a small island just outside Bergen, where chef Ørjan Johannessen (winner of Bocuse d'Or 2015) and his brother Arnt, put out a lovely three course lunch of – seafood, of course – crayfish with shrimp followed by delicate monkfish for the mains accompanied by a white wine, Custoza Superiore "Ca' del Magro" Monte del Frà from Azienda Agricola Monte del Fra (a unique blend of Garganega, Trebbiano, Chardonnay, Cortese and the Incrocio Manzoni, as I discovered). Dessert was a gorgeous fresh berry and white chocolate dessert with the fresh, fruit-laden sweet wine, Falchetto Brachetto d'acqui 2013. The next day, at the rooftop grill restaurant, Roast at the Scandic Ørnen, ( Lars Hilles gate 18, 5008 Bergen) a view of Bergen combined rather beautifully with a lunch of fresh and diverse seafood and Prosecco.
More memories were created at Restaurant Lofoten (Stranden 75, 0250 Oslo) on Oslo's Aker Brygge seafront. As we watched the sun set into the sea, we dined on a flavourful fish soup, scallops with stewed apple and balsamic reduction for starters; and salmon in miso broth with fresh enoki, and lobster for the mains. The wine, recommended by our server, was a stunning Albariño from Rias Baixas, Spain: Santiago Ruiz O Rosal 2014: aromatic fruit and minerality coming together powerfully, the structure strong, the finish long. One of the most balanced, more-ish whites I've tasted in ages, and one now entered in my little notebook.
Did I eat only fish? No. We indulged in other Scandinavian delicacies like elk, reindeer, venison (I drew the line at whale). But for me, the hero of the trip was the seafood.
On drink: Norway has very strict laws relating to consumption of alcohol. Ergo, only beverages with 4.7% abv or under may be found on supermarket shelves. The rest, including wine and beer, are available only at the state-run Vinmonopolet, even the local  aquavit (akevitt). Norway makes some very basic wine of their own, but brings in many good imported brands.
Paris when it drizzles
After wonderful weather in Norway, the law of drizzly averages hit us and when we landed in Paris the deluge had started. No matter. I'd decided skip the Michelin stars this visit and try the next rung of equally well-rated but smaller bistros and brasseries on the Left Bank this time. It would be a culinary adventure of gastronomic discovery. Or as Edith Piaf might have husked, "C'est si bon."
Rainy days and foie gras
I've dined at Le Petit Prince de Paris (12 Rue de Lanneau, 75005 Paris) before, and the restaurant, true Parisian style, is tiny, with tables so close you can inhale your neighbour's perfume. No matter, they were ready to feed us, and with a bottle of Pierre Amadieu Romane-Machotte 2013 from Gigondas, Rhône on the table, I ordered a platter of foie gras. Added a smidge of fig jam… and all's right with the world.
Vive la différence: Quaint, tiny and characterful.One of the few eateries open late (until midnight) and on a Sunday. Usually unheard of in France. 
The next day, the rains continued. Umbrella aloft on my way to the metro, I passed Eric Kayser's famous flagship boulangerie with its stunning, very distracting store window filled to the brim with gorgeous pastries, cake and bread (8 Rue Monge, Paris 750005) where a croissant for breakfast is de rigueur. Add a double shot of good French espresso and you're set for the day.
Vive la differénce: One of the must-vist boulangeries of Paris (along with the iconic Poilâne), Kayser also offers a range of gluten-free bread, now becoming very popular and easily available in Europe.
Frenchie bar à vins – small plates, big on flavour
Dinner was to be at one of the family's favourite Parisian watering holes, Frenchie bar à vins (5-6 Rue du Nil, Paris 750002), at the #2 son's request. Incredibly, 7 years on the Frenchie brand hasn't lost its sheen in a city teeming with fabulous food. The trick, I suspect, is Chef Greg Marchand's constant reinvention. Every time we visit I find favourites tweaked, new food added. And his wine list brimful of exciting, often little known but quality wines is constantly growing, changing – making the evening quite the voyage of pleasurable discovery.
Frenchie's wine bar is really a bar à manger, according to Marchand. It follows a simple philosophy… share a table for 6 with tall stools… chat, eat, drink and be happy. At the very least, you'll make new friends. The queues in the tiny cul-de-sac of Paris' business district, the 2nd arrondissement, begin building up from 6.30pm for the 7pm opening come hail, snow, or in this case, driving rain. A team of very sharp young people who also speak flawless English, usher you in and you sit and riffle through the clipboard menu as you wait for your order to be taken. The three of us ordered a bottle of Clos Saint-Pancras Mâcon Villages 2014  from Domaine Frantz Chagnoleau, a well-balanced and superbly easy Chardonnay from Burgundy. The small plates kept coming to the table as they were prepared, à la minute. We ordered the velouté de courgette, tartine de tourteau sur pâté feuilletée (zucchini velouté served with crab on puff pastry),  as pretty as it was delicious ( "I'll have what she's having!" pointed my American neighbour), the rillettes de canard (duck pâté), the papardelle ragout de queue de boeuf (papardelle with oxtail ragout), champignons et moutarde and my favourite, the hand cut tartare de filet de boeuf au couteau, anguille fumée, chips de legumes (beef tartare with smoked eel and vegetable crisps) – the last one so utterly moreish that I ordered seconds. The boys loved their favourite mini pulled pork sandwiches. For dessert was the Marchand spin on a recently revived old nursery favourite – the banoffee, along with an old Frenchie fave, pot au chocolat, only this time the chocolat was white, caramelised, topped with those wonderful, omnipresent summer berries. Accompanying this repast was our second bottle of wine, a Burgundy Pinot Noir, Domaine Emilie Geantet 2012, Fixin. Its fine tannins and restrained black fruit was just the ticket with the tartare. Food nirvana.
Vive la différence: Having travelled the world on work (including stints with Jamie Oliver and Gramercy Tavern, Marchand is one French chef who is bold enough to venture for quality produce outside France. He serves only cheese from the artisanal London retailer, Neal's Dairy Yard. Sacre bleu!
Cave à manger with heart – Les Papilles
Having decided to concentrate on traditional French food this trip, I was lucky to score a table at another very popular bistro/cave à manger, Bistroy Les Papilles (30 Rue Gay-Lussac, 75005 Paris) thanks to my intrepid concierge's persistence on the phone. This is another (almost) hidden gem in the 5th arrondissement near the Jardin du Luxembourg. Here chef owner Bertrand Bluy's philiosphy is to serve fresh seasonal produce prepared simply sans frills or as Bluy says, simply "retour du marché" with good wine accompanying the meal. You have no menu choices – only the menu du jour which doesn't vary too often – salad, soup, main course, cheese and dessert all for an incredible €33. Very simple, hearty, perfectly done and served family style – a favourite of Michelin three-star chefs on their days off, we were told.
We started with charcuterie and champagne, and for the meal the omnipresent Bluy recommended we try a Domaine de Montcalmes 2013 from Terrasses du Larzac when I told him the Languedoc was a favourite region. It was a perfect pairing with the rich country-style main course of lamb shanks and vegetables in red wine sauce. The Syrah-dominant wine blended with Mourvèdre and Grenache had lovely structure and balance, finishing strongly on the palate. Loved it. This was preceded by a giant tureen of creamy sweet potato velouté spooned over croutons, bacon and spinach. Food coma stuff. Ergo, no dessert required.(In case you're interested, the day's special was a salted caramel pannacotta, preceded by a rich blue cheese served with plum jam.
Vive la différence: The pièce de résistance is the large display of handpicked wines to accompany your meal – you can buy the wines at retail + €7 corkage to drink at the restaurant or take away. No markups. Such a brilliant idea!
Le Comptoir du Relais – French classics, reinvented
Enfin, last day, last show. Bravely –  without a mandatory reservation –  we ventured to try for a table at 'bistronomy' specialist chef Yves Camdeborde's famous avant-garde bistro Le Comptoir du Relais at the Hotel Relais Saint-Germain (5 Carrefour de l'Odéon, Saint-Germain-des-Près, 75006 Paris). Alors, only lunch is possible so last minute. Camdeborde, who is avowedly earthy, simple and a champion of the little guys, from artisanal cheese makers, butchers to wine growers, has cut his teeth working with Michelin-awarded chefs like Guy Legay and Christian Constant and big name classic restaurants like La Tour d'Argent, Maxims and Le Crillon. He's also on Masterchef and does the Air France business class menu. But he's still at Le Comptoir every day, meeting suppliers, interacting with the chefs and adoring clientele in the tiny cramped typically Parisian space. The buzz is that desperate diners go as far as to book a room at the hotel just to score a guaranteed table.
The lunchtime vibe is decidedly more relaxed and casual. With une verre Bandol rosé before me and faith in the gods of good food restored, I ordered the salade de poulpe, a delicious melange of flavourful salad veggies tossed with crisped slices of octopus. Before this, we shared a plate of escargots and some foie gras – my favourites – did I say this was my last French meal of the trip? The sons' orders – lobster bisque and oeufs mayonnaise before a stunningly earthy, generous stew of fall-off-the-bone lamb shank on a bed of couscous with dried fruit, and  densely delicious pieds de porc braisés et désossés (braised boneless pig's feet). Their desserts were good ol' crème brulee and cremeux au chocolat noir Guanaja, huile d'olive, fleur de sel, tuile café (dark chocolate mousse with olive oil and salted caramel). I only needed my double espresso. As we left, Camdeborde bustled into his tiny standing-room-only oyster and wine bar, L'Avant Comptoir next door, tossing us a warm bon jour. Next visit, I'll book for dinner six months ahead.
Vive la différence: No reservations possible during your visit? Go for lunch instead, served right until 6pm, before the more formal vibe takes over at 7pm.
Ah, Paris. Always something to look forward to.
You might also like