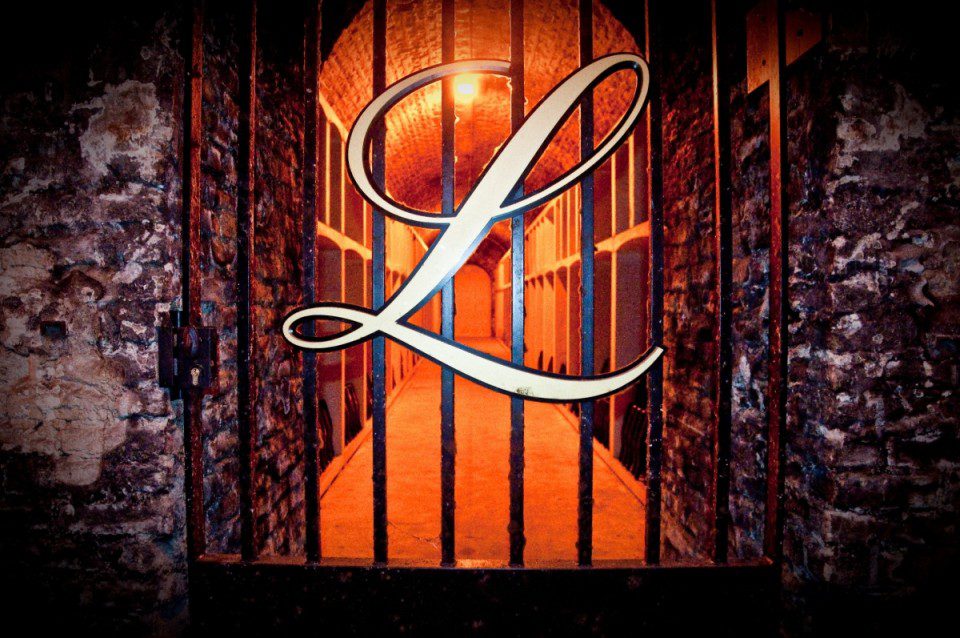 A visit to Champagne brought me to a special little urban vineyard in the heart of Reims: Clos Lanson
Several months ago, during a trip to France, I visited a secret garden in the heart of Champagne. Secret because it was situated in the centre of Reims, Champagne's largest town. And really, this garden wasn't really a garden at all – it was a vineyard, and nothing like Enid Blyton might have ever imagined. This was the urban vineyard of Reims' famous grande maison of Lanson known by its symbol of a distinctive red Maltese cross. I discovered it as Lyne Descotes, my guide for the afternoon, led me through the winery consisting of lengths of cool, grand and dimly lit cellars and chais, dominated by steel tanks and barrels where wines from individual plots were silently vinifying; she led me through the grand historic vinotheque, where hundreds of bottles (some vintages dating back to 1904) stood sur pointe. Finally, she opened a door and there was a sudden flash of bright, lush green vines against a clear afternoon sky.
This was Clos Lanson. An anomaly among vineyards and the pride of Lanson. A one-hectare plot growing top quality Chardonnay, protected by 18th century walls painted white. No gimmick this: the secret plot from where the majestic Reims cathedral is visible a short distance away has a wonderful chalky soil and the perfect micro-climate for producing Chardonnay. "Each year on the first Saturday of September, the team who works at Lanson along with their families, take care of the harvest," says Descotes. "Planted in the 1960s, it has remained within the purview of the House ever since." No professional pickers here; the occasion of harvest is one of celebration and joy, much like a family harvesting the produce of its own farm. The Lanson harvest is one of the earliest in the Champagne region because of its location and warmer climate which leads to earlier ripening. The vines' average age is about 35 years.
In 2016, the precious 'secret' of House Lanson was out.
At the end of April this year, Lanson's chef de cave Hervé Dantan released the first vintage of Clos Lanson with much fanfare. It was the 2006 vintage. Nine years in the making, and a mere 7,870 bottles produced.  Later that afternoon after my tour of the beautiful property I sat in the Lanson tasting room sipping some of of the stunning Noble Cuvée Brut vintage 2000 (30% Pinot Noir, 70% Chardonnay) in lieu of a cup of tea (would you argue with the choice?). Marie-Albane d'Utruy, press liaison officer explained how precious the Clos Lanson vineyard was to the champagne house. "Men who cultivate the vine here do so with exquisite attention. Given its unique and extraordinary nature, Clos Lanson's vines are subjected to almost surgical care. Of course, Lanson does not use any insecticides or pesticides, and Clos Lanson is farmed biodynamically too.  Philippe Baijot, president of the House, has decided to offer Clos wines to connoisseurs of Champagne."
Lanson is known for its special cuvées, all precisely blended to a degree of great complexity. It is also known for its choice of vinification without malolactic fermentation. Clos Lanson is made from the first gentle pressing of the grapes and vinified in oak barrels for several months. The vintage Blanc de Blanc is then aged for an additional 7 years on lees. The dosage is low, around 3g/l. The champagne is hand-riddled by the master riddlers in the tradition of all their special cuvées. Last reports said Clos Lanson 2006 was selling at €200, if you could find a bottle.
With the addition of Clos Lanson, the house joins other venerable Champagne houses making single vineyard vintage champagnes: Krug and its Clos du Mesnil and Clos d'Ambonnay and Philipponnat with its Clos des Goisses.
But with its urban cityscape, the tucked-away Clos Lanson is a vineyard like no other.
Champagne Lanson
66, rue de Courlancy – 51100 Reims – France
Visits by prior appointments only at http://www.lanson.com/