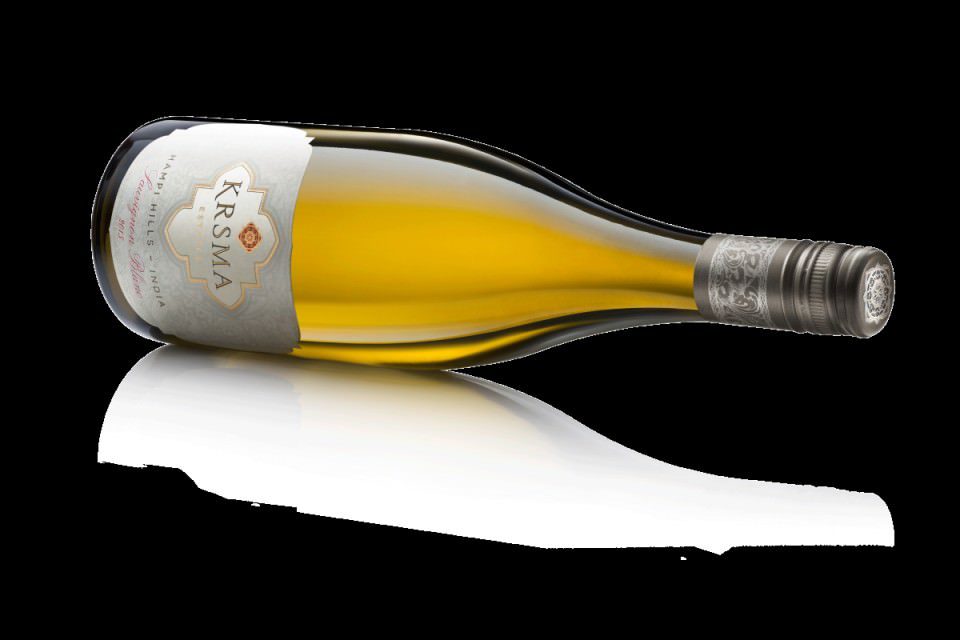 …this is India!
A report on the tasting of the new vintage of  Sauvignon Blanc from KRSMA Estates in India's Hampi Hills, where the focus is letting the terroir speak for itself
I have been tracking KRSMA Estates since before its launch in February 2014, and its journey so far has illustrated growth in the most positive way – that the making of wine in a mint-new, untapped region in India is possible given time, commitment and focus.
KRSMA estates is owned by Krishna Prasad and Uma Chigurupati, a couple with a passion for wine and marathons (they hold Guinness world records – marathons run as a couple in all seven continents, for example) has been covered in my blog site earlier; and their historical vertical tasting of their flagship Cabernet Sauvignon (2011 to 2015) last year as another milestone event. Wine is the couple's passion – their 'day job' is running a pharmaceutical company, which helps pay to support this passion.
On this warm sunny Saturday in Bangalore, it was time to change colours, shifting focus away from their attention-grabbing reds to their white wines. The KRSMA Sauvignon Blanc 2016 was being readied for launch this July, and a small, focused tasting of this wine along with the KRSMA Chardonnay 2016  was being held at Ssaffron, the fine dining Indian restaurant on the 18th floor of the Shangri-la, Bengaluru. I had been hearing good things about the KRSMA white wines and was keen to see the outcome.
The KRSMA Sauvignon Blanc has been undergoing subtle changes over vintages, evolving and developing under the watchful eyes of the Chigurupatis and their visiting South African winemaker, Adriaan Foot from Cape Town. This blind tasting of the 2016 vintage was to be a testing of the waters (or wines, so to speak), tasted in juxtaposition with a well-established crowd pleaser Sauvignon Blanc from Marlborough (which turned out to be Cloudy Bay 2014). While we knew the KRSMA wine's identity, that of the 'other' Sauvignon Blanc was not revealed until the tasting was done.
On to the tasting: the lightly floral and herbaceous notes of the KRSMA Sauvignon Blanc 2016 were refreshing. The wine, a pale lemon in hue, had an excellent balance and structure, with a neat acidity which made its presence felt without being overwhelming, and a medium-long finish. Delightfully fresh and moreish, with tiny notes of fresh herbs and scented flowers unfurling on the palate, marking a distinct identity. This, acknowledged Uma, was a trait of the Hampi terroir, the home of KRSMA. The wine is 12.9% ABV with total residual sugar of 2gm.
"Wine is first and foremost an extension of its terroir," said Foot. As far as the world-popular expressions of Sauvignon Blanc are concerned, Foot believes there's a time and place for each one of them including the well-favoured tropical- fruit rich style that is New Zealand's pride and joy.  In response to the appreciative comments about the acidity in the KRSMA wine he said, "Acidity in wine is like salt in your food – there must be balance between too little and too much."
Foot would know. In his native South Africa, Sauvignon Blanc is finally establishing an identity of its own after years of experimentation and study. "In South Africa, we have done plenty of study on the flavour compounds in the Sauvignon Blanc grape, even conducted a world blind tasting of the different expressions with a panel of winemakers. The answer was as expected: nowhere can one make a New Zealand Sauvignon Blanc except in New Zealand." The next question: so why the benchmarking exercise? KRSMA Estates business head Vishal Nagpal explained that they wanted the yardstick for the KRSMA  to be the world's acknowledged favourite – the Marlborough Sauvignon Blanc. "To compete internationally we need to compete with the best in the world," agreed Foot.
The unanimous consensus at the tasting table was that while the Cloudy Bay was a delicious wine, KRSMA more than stood its ground with its own unique character. (more…)