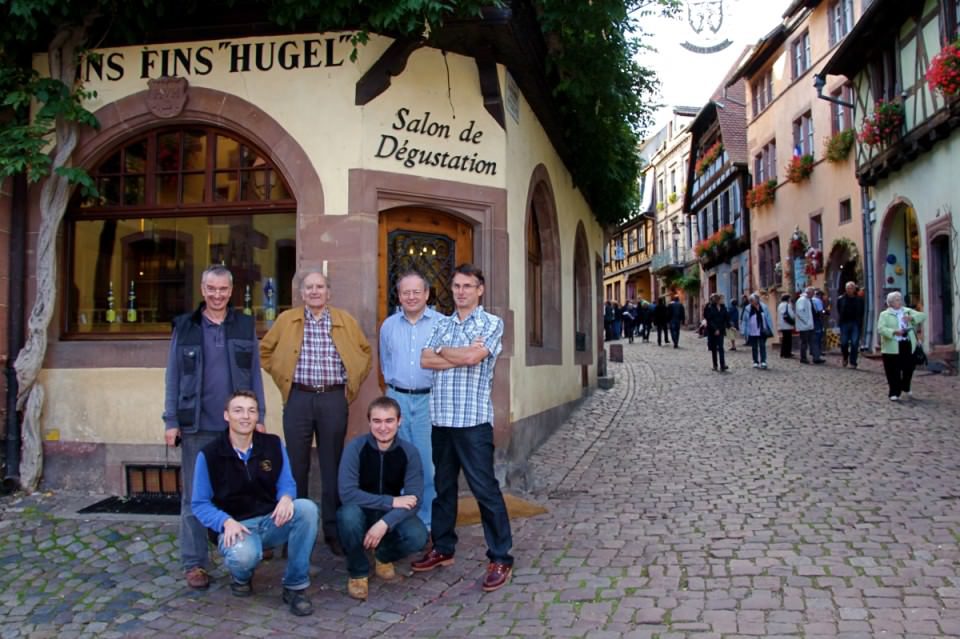 "If my crazy itinerary – eight Indian cities in two and a half weeks – doesn't convince you that I am really invested in India, then nothing will," quips Etienne Hugel, one of the troika of Hugel brothers (Jean-Philippe, Marc and Etienne) who run the venerable wine company, Famille Hugel situated in Riquewihr, Alsace. True, this. Hugel's
stunning, top-rated wines are not cheap, especially in India. Yet, he persists in India, and on this trip each of his winemaker's dinners, perfectly curated along with his friend and importer Sanjay Menon of Sonarys, is greeted with rave reviews. Etienne Hugel's relationship with Menon goes back years: he describes Menon as "an amazing ambassador of the good life," with meticulous attention to detail when it comes to arrangements. This is something Etienne appreciates. "The only way to do it is to do it right," he says.
I first met the ebullient, charming Etienne in 2011 when Sanjay Menon brought him down for a winemaker's dinner to Bangalore. This time the Hugel wines were paired with a North Indian tasting menu by Chef Nimish Bhatia at the Lalit Ashok. Later, by the poolside, Etienne showed slides of Riquewihr, the tiny magical fairytale village in Alsace, France, where the Hugel family business is situated, a short drive from Colmar and Strasbourg and on the twisty Route des Vins d'Alsace. Instantly, my friends and I fell in love with picture-postcard Riquewihr as we did with Hugel wines, and a trip was planned.
The visit was as magical as we expected. My memories include a picturesque little Riquewihr hotel with old stairwells and turret rooms, tiny cafes lining narrow cobbled pathways, flower-lined wishing wells, a riot of colourful houses abutting Michelin-star restaurants, breakfasts of crepes and mirabelle jam, aromatic white Alsace wines in typical green-stemmed pot-bellied glasses accompanied by the local version of pizza, the tarte flambée, and finally a glorious wine tasting in the Hugel tasting room led by Etienne. This was followed by a walk around the Hugel cellars and an admiring look at Ste Catharine, the largest and oldest cask (1715) in active use  today, followed by a sumptuous lunch of choucroute and other Alsatian delights accompanied with Hugel wines and a post-prandial stroll in Hugel's Grand Cru Schoenenbourg vineyards overlooking Riquewihr. It was utterly memorable. Alsace combines the best of France and Germany in terms of culture and gastronomy, but has an identity distinctly its own. It's so worth a visit…or two.
Famille Hugel is no johnny-come-lately in France's wine biz. The family is one of the founder members of the wine aristocracy represented in the Primum Familiae Vini (www.pfv.org) along with names like Rothschild, Antinori and Torres. Famille Hugel, known earlier as Hugel & Fils, grows noble grape varieties in its 65 acres of vineyards in the hills around Alsace – 40% Gewurztraminer, 40% Riesling, 15% Pinot Gris, 5% Pinot Noir. Their best grapes are used for the erstwhile Jubilee and Sélection de Grains Nobles range, and their luscious, nectar-like sweet wine Vendange Tardive (meaning late harvest). While most of their range comprises single varietal wines in the Alsace tradition, their popular entry level wine is a blend: Gentil, an elegant combination of five noble grapes – Gewurztraminer, Pinot Gris, Riesling, Muscat, Pinot Blanc and Sylvaner – each grape bringing something to the wine structure.
Etienne and I chatted on the phone – he was in Mumbai, I in Bangalore, and he doesn't do lengthy email. The conversation turned to Japan. His Japanese sommelier wife Kaoru has helped open his eyes to the elegance that is Japan, and Etienne is a fan. "The Japanese want quality and they are ready to pay for it without compromising on price," he tells me, describing how Japanese airline ANA swept up 2,900 bottles of Hugel Gentil 2013 for its business class without a jot of bargaining. They have even pre-ordered the 2014.
I was curious about the changes in the Famille Hugel since our last meeting. Among these changes the most notable being the discontinuation of their premium Jubilee range of wines, replaced by the Grossi Laüe selection of Pinot Gris, Gewurztraminer, Pinot Noir and Riesling (an equivalent, I'm told, of the German Grosses Gewächs or the Burgundian Grand Cru) to mark Hugel's 350th anniversary in 1989. "It was also the year of the birth of three boys of the next generation, and the collapse of the Berlin Wall – you know Alsace's history with Germany." (Alsace has gone back and forth between France and Germany several times in history). "Grossi Laüe is like a cultural coming out, to use a often misunderstood phrase – here are some of our greatest wines from our greatest vineyards – our grand crus."
The response to the first release in 2010 stunned them. "It was unbelievable," Etienne recalls, "Famous French wine critics Bettane+Desseauve gave our 2010 Riesling Grossi Laüe  20/20! We couldn't believe it – Jean, my brother saw it and said, 'Quick, call Michel (Bettane), there has been a misprint in his guide.' But no, it was no mistake!" To the same tasting room we had sat in four years ago, came powerhouse delegations from Opus One and Berry Bros & Rudd from London, all applauding the wines they tasted. Robert Parker's Wine Advocate showered 90+ points on the Grossi Laüe range, describing it in superlatives, while critic James Suckling placed three Hugel wines in his top 10 from Alsace.
This was the game changer. (more…)