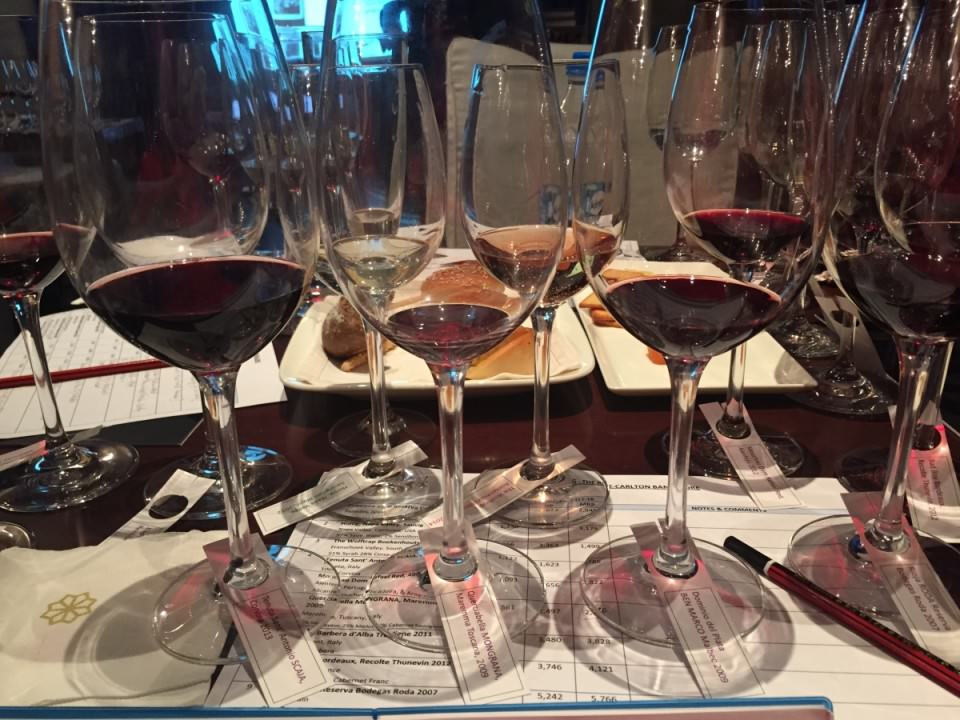 December 2015
With Christmas, New Year and lots more partying around the corner, who needs an excuse to drink some good wine? Not me!
Here are a few memorable tastings I've done in India recently… so if you are looking to buy some wine, take a look at some of these.
Mumbai based importer Vishal Kadakia dazzled once again with his interestingly-curated imported wine list for his company Wine Park a couple of months ago at a tasting at an epic afternoon at the Ritz Carlton Bangalore. The tasting (which featured wines that crisscrossed Europe and the Americas) started with the sparkling Gramona Gran Reserva 2009, a Cava from Spain's Penedes region (at last one of these in his portfolio!) by a venerable century-old company of note – off-dry, fruit-forward and quite delicious. Cava is made by the method traditonelle, and isn't as cheap as many other bubblies around the world. But for the discerning drinker the extra spend is worth it. Rs 2940 in Karnataka, Rs 3937 in Maharashtra.
One of the afternoon's standouts was the Tenuta Sant'Antonio SCAIA 2013 by the Castagnedi brother from Veneto, Italy. A 100% Corvina, made by the ripasso method which gives a delicious raisinated depth to the wine. Not a lightweight sip, and would do extra well with some food to anchor it down. I loved it any way. (SCAIA Garganega Chardonnay is its white sibling.) At Rs 1786 with a nifty glass stopper, this one is a steal. (Rs 2376 in Maharashtra). Smart hoteliers have been snapping it up, I hear.
The Vietti Barbera d'Alba TRE Vigne 2011 is an older favourite from the Wine Park portfolio. A 100% Barbera, lots of depth from the oak barrels and a delicious wine. MRP Rs 3828 in Karnataka, Rs 5031 in Maharashtra.
Thunevin's Bad Boy Bordeaux, 2012, this chameleon-like garagiste wine always confounds me. Just when you think you have figured it out – how long to decant for, what to drink it with –  it turns around like the bad-ass it is and shows up another dimension… Not for the faint-hearted or miserly of pocket at Rs 4121 a bottle in Karnataka – Rs 5356 if you're in Mumbai. (Vishal informed us there's a Bad Girl too, though not yet in India… wonder how naughty she will be!)
For some super-indulgence, there's Bodegas RODA Reserva, 2007 (my favourite Rioja Alta winery by a mile for sheer class and consistency), a 90% Tempranillo with some Garnacha. Ummm…gorgeous…am still reeling from the tasting I did there in Rioja(elsewhere on my website) which included the mind-blowing vintage of their premium Cirsion…. If you can't get yourself there, treat yourself to one of these. Rs 5766 a bottle in Karnataka, Rs7279 in Maharshtra.
And my favourite of this tasting juts for ticking all the right boxes… From the stunning, wild and biodynamic vineyards of Maremma, Tuscany comes the Querciabella Mongrana 2009. The Mongrana isn't the crown in their range, but you cannot go wrong with Querciabella. The passion of its owner Sebastiano Castiglioni  and his dedication to biodynamism and veganism shows though in this clean, pure wine. The Mongrana is 50% Sangiovese and 25% each Cabernet Sauvignon and Merlot. At Rs 2747, I'd buy it again and again. Of course, all the while wishing that we had Europe prices here…. 🙂
Wine Park wines are available at leading retailers in Bangalore.
NB: On another note, one has recently heard that Fratelli, a major Indian wine maker, is the first to tie up with the Taj Group of hotels to make an exclusive house wine for the hotel. which will be served at the Taj's  St James' Court Hotel in London. The wine, created by Fratelli's oenologist Piero Masi, has the French name of Compagnon de St James, but is quite British in its look. (See picture, left) It is a blend of Cabernet Sauvignon and Sangiovese, 13.5% abv. How's that for a really multinational wine!