I love my wine. And on holiday, a good bottle of wine on an evening does seem de rigueur. Though while holidaying in Goa, this has hitherto been something of a challenge. Yes, wine has been available, but not at every restaurant and often the selection is limited. I usually have to carry a couple of bottles with me in my bags. The imported wines available here are usually entry-level or quick-moving brands (read cheaper). While several of them are quite drinkable, things tend to get a little ho-hum at times.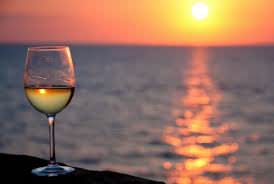 On a recent break in Goa, however, I decided to go with the flow and seek out and be happy with what is available. Of course, this has its limitations. Many Goan food restaurants, in deference to their spicy curries – recheado and cafreal masalas included – tend not to offer a wine list at all. Beer would work better in such cases, and it is often wise not to stray from this dictum. If there is any wine, it is usually the cloyingly sweet, cheap and cheerful 'port' wine that Goa has been hitherto known for. But today, the holiday state has a growing number of quality food-focused standalone restaurants serving European and milder Asian cuisines, and this is where a spot of experimenting with beverages does not seem amiss.
This January, I made some pleasant discoveries, many of them centred around the fast-improving range of Indian brands that are now making their presence felt. I must confess, this did give me a warm glow – it always feels good when you can find a good food match with Indian wines – and happily there's more to choose from every day.
Cavala, the nightspot in Baga which is overrun with customers on weekends because of its excellent choice of bands playing foot-tapping retro music, is known primarily for its happy vibe and cocktails. But wine lovers have a workable, if limited choice of wines to pick from. I opted for the ubiquitious Jacob's Creek Chardonnay, which went well with the fresh fish, crab and calamari we ordered. The music, by popular Goan band Tidal Wave, added to the party atmosphere. Score one.
Another evening at the very popular Japanese restaurant, Sakana in Chapora, we tried out a variety of sushi – from California rolls to spicy ebi and smoked salmon, followed up by beef gyoza, wakame and tofu salad and beef udon noodles. I decided to order a bottle of Sula Sauvignon Blanc (Rs 1100), a very popular Indian white wine (because of its balance and lately, consistency), and it worked very well indeed. Score two.
Thalassa, the Greek restaurant on Vagator beach is famed for its outstanding sunset from its perfect cliff top vantage point overlooking the sea, and its Med vibe. Mariketty, the energetic owner, keeps things buzzing with the music and decor too. I like the Greek food here – more home style than gourmet. Watching the sun set one evening, we ordered lamb kleftiko, gyros and beef souvlaki. I was pleased to see a few more than a few suitable wines, Indian and imported, on the list. And with my hearty beef moussaka, I ordered the Torres Sangre de Toro (Rs 2500) and bingo! another good match – the Cariñena and Garnacha-based wine working well with the meat. Score three.
A Sunday evening called for an early dinner, with toes in the sand and more good food. We headed out to La Plage, the French-owned shack/restaurant on Morjim beach. It was packed with early Sunday diners. The beef carpaccio was excellent, while the squid risotto with calamari sauteed in butter garlic called out for the Santa Rita 120 Sauvignon Blanc from Chile (Rs 2400). Bottle over, we decided on some Fratelli Chenin Blanc. Nice. Score four.
For our last night in Goa we had booked at our favourite restaurant, Bomras. We are usually protein-ed out by now and gasping for a good salad and the ones here are excellent. The pickled tealeaf salad is a favourite. I sampled some of the others' salads too – the rare beef salad and the crispy pork salad – and they were good. With my main course of squid ink pad thai with cuttlefish I ordered a glass of their house wine, Sula Sauvignon Blanc (Rs 350 a glass). Spot-on pairing. Score five.
Conclusion: the wine scenario is looking up in Goa. While restaurant wine lists still tend to be a single page offering, there is much more available overall. Yes, here is progress!
What is most heartening is that Goa is slowly shedding its image as a place where wine is always cheap and plonky. New quality-centric Indian producers, along with older stalwarts Sula and Grover are offering good quality wine at reasonable prices, so there is much more available for the consumer – at restaurants and on the shelves. Besides being a hotspot for foreign tourists of all budgets, a growing number of Indian tourists visit Goa around the year (including the monsoons, a time until recently considered very off-season), and there are plenty of visitors from other Indian metros who now have holiday homes in Goa. Ergo, things are looking up for the Indian wine industry, which is no longer solely dependent on foreign tourists alone to sell there wines here. A friend of mine who has relocated to Goa from Bangalore only buys cases of Fratelli Sauvignon Blanc for herself and her guests.
Norton Stokes, DGM sales, Fratelli Wines, believes that the Goan wine market is evolving and growth has been fastest in the last three years. Restaurants like the popular Martin's Corner in South Goa, Thalassa in Vagator, J&A in Baga and À Reverie in Candolim are regular stockists of their wines. Retail buying is growing too, especially with their lesser-priced Classic range of varietal wines (Rs 435/-), while many top restaurants and hotels are serving their premium varietal range. "The better-known varietals like Chenin Blanc, Cabernet Sauvignon are still best sellers. But while in Goa, people are more open to experimenting. So for instance, sales of our Sangiovese and Sangiovese Bianco (Rs 810 in retail) are also picking up," he says. Even the less swish eateries and roadside cafés now offer a limited wine selection, and foreign tourists often opt for a bottle with their dinner before heading home after a day at the beach. The fact that good Indian wines is handy and costs less than imported wines is an additional plus in their favour. "Once you have the demand, supply will automatically follow," he adds.
So for me as well, it was a win-win situation with wine in Goa. Dining at my favourite places while drinking wine and making happy pairing discoveries was a bonus for me. Hoardings advertising Indian wines dot the roads. Supermarkets have well-stocked wine racks. And the situation is bound to improve further as Indian tourists gain exposure to good wine, and go on to seek better and better quality over time.