Notes on a study table on pairing Indian wines with North Indian food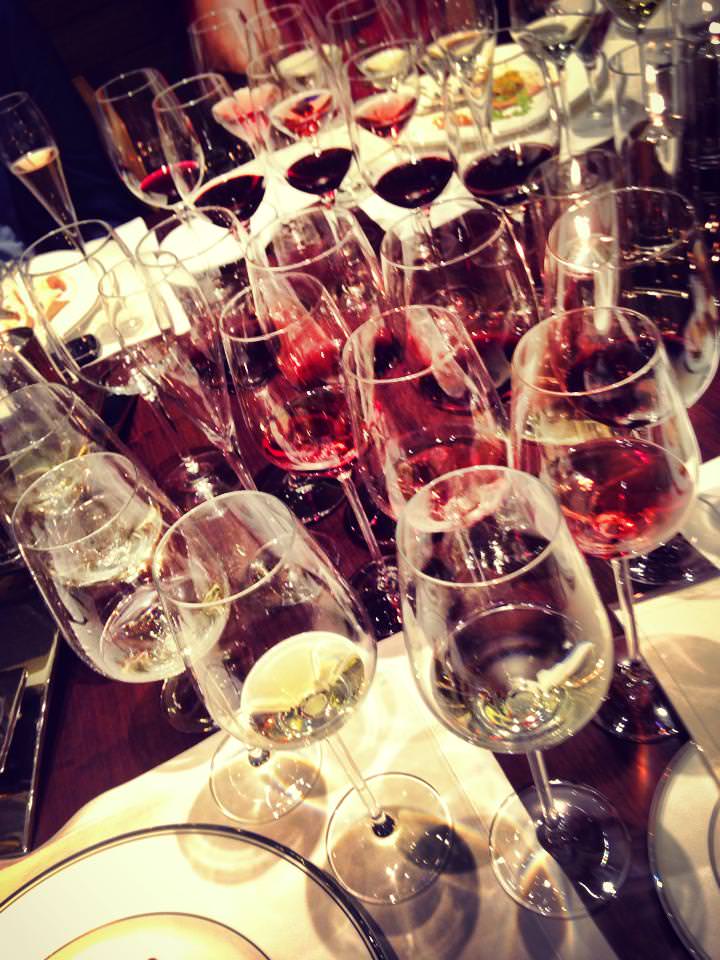 To borrow a phrase from Barack Obama, I'd like to say, "Yes, we can." The context is totally different though: the subject here is wine, and its pairing with Indian food.
Reams have been written on the topic, experts have pontificated on it, and chefs have worked tirelessly to devise menus to attempt to create what a wine expert friend likes to describe as an 'aha' moment.
Confession: this is a topic close to my heart, though I always approach it with caution and an open mind. I believe Indian food is so complex, so diverse and so incredibly hard to typify that pairings sometimes tend to seem forced or manipulated. Certainly, most Europeans find it hard to tolerate Indian spice levels, and fewer still think to pop open a bottle of their favourite Burgundy with a chicken tikka masala, though many have tried.
So when Kripal Amanna, editor of Food Lovers' magazine invited me to be a part of a study table he was conducting, which would taste 16 courses from various North Indian cuisines paired with 14 wines, I was intrigued. Kripal and wine consultant for the magazine, Heemanshu Ashar, had already conducted a similar exercise of pairing the pepper-rich spicy South Indian cuisines with Indian wines, and had discovered quite a few possibilities that would work (see the article in Food Lovers). So there was hope for the very popular North Indian cuisines as well (read kebabs, butter chicken, biryanis).
So this evening, scheduled at Riwaz, the Indian restaurant at the swanky new Ritz Carlton in Bangalore, would hopefully throw up several possible discoveries.
The primary reason Indian food is considered tough to pair with wine are the spices which are intrinsic to every variety of Indian cuisine (I make differentiation here among the various Indian cuisines, not lumping them together under a generic 'Indian food', yet I confess that the existence of spices in varying quantities and form do exist in all Indian cuisines.)
The wines shortlisted for the evening from the steadily growing list of fast-improving Indian wines included 14 mid-range wines in all: offerings from Big Banyan (Sauvignon Blanc and rosé), Reveilo (Chardonnay, Nero d'Avola and Sangiovese), Four Seasons (Viognier and Merlot), Sula ( sparkling rosé, Satori Merlot), Fratelli (Cabernet Franc-Shiraz, Shiraz rosé and Chardonnay), Pernod-Ricard's Nine Hills (Shiraz rosé, Viognier). Nine grape varieties representing 6 Indian wineries.
The lengthy tasting menu conceptualized by Chef Anupam Banerjee and his enthusiastic young chef de cuisine at Riwaz, Ramandeep Kukreja, included a vegetarian kebab platter, a non-vegetarian kebab sampler, 3 veggie mains and 3 non-veggie mains. Accompanied by both chicken and vegetable biryani in individually sealed handis. A delectable array of Indian breads. Finally, dessert.
(For details on the pairings and more, please see the article in the Food Lovers' magazine of December-January 2014 on the findings of this study table.) I do have a few of my own notes to add, though.
There were some surprises, and some expected results:
– the Reveilo Chardonnay handled the spice levels the best among the whites.
– the Viognier from Four Seasons held its own against the spices in the food, for the most part.
– Sauvignon Blanc turned out to be an also-ran when it came to the pairing stakes. the pairing was okay, but not wonderfully so. I'm not really ecstatic about a mere 'okay.'
– Across the board, all the red wines improved dramatically over time in the glass. This, despite being decanted earlier for 30 minutes and returned to the bottle. Goes to prove that theories about decanting and more decanting is the best thing for young Indian reds (I believe this too) – an hour or more, ideally. With very few exceptions.
– To my mind, the best pairing with the chicken biryani and the butter chicken (two of the most popular dishes ever ordered in any type of Indian cuisine, anywhere in the world), was not surprisingly the Fratelli Cabernet-Shiraz. The blend of Cabernet Franc with Shiraz, the one international grape variety which holds its own, more or less, across Indian cuisines, worked wonders with the complex flavours of fragrant rice and meat (Mind you, biryanis come in all flavours, types and spice levels, from different parts of the country. This one was distinctly North Indian – much richer, more delicate and complex compared to the more pepper hot biryanis from the South).
– The Sula Satori Merlot was one of the better-received reds if we took an average, accessible and pleasant, thus making it an easy go-to red wine when in doubt. The Italian varietals did better than one might have imagined. The Reveilo Sangiovese worked best with the butter chicken (Murgh Tikka Makhani), pipping its Sicilian cousin the Nero d'Avola, to the winning post on this one. These Indian expressions of Italian grape varieties are perhaps better suited to Indian cuisines than their Italy-made versions.
– There were few outright failures in the pairing of both the reds and the whites. Many dishes found at least one pairing, sometimes more, that worked. This was a positive outcome.
– The rosés disappointed when it came to pairing with any of the food, even the kebabs. Rosés are often touted as the 'perfect pairing' for lighter Indian meat dishes. But I find many Indian rosés lack the structure and balance to hold their own against such food. It's not the fault of the food. Indian rosés perhaps need to still come of age, being made predominantly today for entry level drinkers and therefore lacking the complexity that many French rosés (for instance), have developed over time. It would be interesting to put together some of the Provençal rosés I recently tasted with some of the kebabs, veggie and non-veggie. I am a firm believer that rosés should not be treated as poor cousins of the reds. But as of now they seem to be mere add-ons to round off wine companies' portfolios, rather than anything else.
So what was the final outcome of the study table exercise? In short, it was 'yes, we can.'
We can – though not quite as easily as one might hope – find pairings for Indian food with wines.
However, there is still much experimenting that needs to be done to find more 'aha' moments. Much depends on how far chefs at Indian restaurants are willing to go to create good pairings, to experiment with ingredients and flavour profiles of various Indian cuisines to enable such pairings to take place organically, rather than in a forced manner. More chefs In India need to give this matter serious thought, do far more in-depth research on it. Also, few Indian restaurants, except some at the five star level, have dedicated sommeliers or extensive wine lists with suitable pairings listed. Winemakers too, need to up the ante with wines for Indian food, rather than hoping that something, somewhere from their portfolio will fit.
But beyond the typical mandatory lip service on the subject, the vital first steps are being taken, right here in India. Studies and detailed exercises like these will go a long way in opening up the minds of the creators of Indian food and Indian wine, and, as should naturally follow, the Indian consumer.
The tasting menu at the Ritz-Carlton, Bangalore:
Vegetarian Kebab Platter: Gilafi Subj Seekh, Bhutte de kebab (corn), Tehdar Paneer tikka(cottage cheese)
Kebab Sampler: Sunheri Jhinga (Prawn), Turra Kebab (chicken), Seekh Kebab Kandahari (Lamb)
Mains: Vegetarian : Aloo Mangodi Makhane, Bharwan kofta, Kandahari Subz Gucchi
Non-Vegetarian: Murgh Tikka Makhani (chicken), Lobster Masala, Baluchi Raan(lamb)
Murgh (chicken)& Sabz dum biryani with assorted breads
Dessert: Riwaz Chocolate & Cardamom pudding