The France Diaries
In a quiet corner of AOC Côtes du Luberon, near the little town of Bonnieux in Provence is a château where harvest is now well underway. At the helm of affairs is Nathalie Margan, the petite owner of the estate, who runs proceedings along with her father JP Margan. She is hoping that the harvest will bring another good year for the estate.
Nathalie has had several good years of late. Ever since she has taken over joint running of the estate in 2000, she has instituted changes in the winery, changes designed to optimise output and create more wines of the calibre that brings over 200 eager wine buyers to the cellar door every day.
Of course, not all visitors come just for the wine. Some have come to gawk, touch and feel. For Château La Canorgue was featured in famous director Ridley Scott's wine-centric movie, A Good Year starring Russell Crowe as Max, a ruthless investment banker, who inherits a run-down estate from his uncle Henry (Albert Finney), comes to Provence to sell it and while there, discovers the real meaning of life along with love (the luminous Marion Cotillard). The château plays a leading role in the film, with its tiny swimming pool, tree-shaded terrasse, vineyards, cellars and charming old-fashioned rooms – one of the major reasons Russell Crowe's character finally finds meaning in his life in this rustic corner of Provence. In the movie, La Canorgue was named Château La Siroque.
Initially and with good reason, the Margans were reluctant to give their estate for the movie's filming. But Ridley Scott, a wine lover himself and a fan of the estate, was insistent that he would shoot nowhere else. "The story was written with your house in mind," he said. In the end, the Margans reluctantly agreed, and all but gave up their home for close to a year, during which it was overrun by film crew, stars and their bodyguards. "Our lives were not peaceful anymore. It became a nightmare," says Nathalie. Even today, seven years after the film was released, tourists still invade their home, curious to see where key scenes were shot. "We completely lost our privacy," she says. Bizarre things have happened too: one afternoon, as the family was lunching on the terrasse, they saw a pair of hands slowly rise above the railings from below, holding a camera and frantically clicking photographs. On another occasion, a couple brought a ladder to sneak over the railings into the house. When they were caught, they were irate. "We couldn't see the house clearly from the driveway, so we were forced to go back and get a ladder!" they complained.
"We never imagined this," says Nathalie with a shake of her head. "People have written to me, saying they would like to take over the château for a day just to replicate a scene from the movie for themselves. We actually live here, so it's quite bizarre!" During filming, it was tough running the winery and the vineyards with security staff at every turn, demanding to see ID before they let even family pass through. "Once, at 4am during harvest, I was walking back from the winery, when a security guard stopped me and refused to let me into the house as I had forgotten to bring my ID card! I had to call my parents before they would let me in," she sighs.
The scene where Crowe discovers bottles of a rare wine labelled 'CP', Ridley Scott used actual wine bottles of the château. The Coin Perdu was actually a wine first created by Nathalie's grandfather, many years ago and still in production. The pool where Russell Crowe's character swam as a child and is shown in disrepair when he revisits, was especially mussed up for the scene. "They rubbed mud, leaves and coffee to get the effect; it took a long time to clean up," says Nathalie.
But Hollywood vignettes aside, today Nathalie's focus is completely on the harvest to follow shortly. La Canorgue is a practical-sized estate of 45 hectares, which makes administering easy. "It's a good size if you want to be in control," she agrees, "We don't want it any bigger. Also, the vineyards are surrounding the house, so it's easy to get the grapes quickly into the winery." La Canorgue is also one of the early pioneers of organic farming in the region, something that Jean Pierre Margan started ahead of everyone else there. "Others thought my father was crazy!" says Nathalie, "But this was his passion.The estate had been in the family, on my mother's side for generations, but when my father took it on in the '70s, he replanted all the vines and rebuilt everything bit by bit, from the cellars onwards. My parents even worked two jobs to support this passion of theirs." La Canorgue is built over ancient Roman ruins, with a natural spring running through the estate. "We have found many ancient Roman artifacts over the years – amphoras, for instance, and tunnels carved into the rock, marked with black soot from the oil lamps used by the Romans, who built many subterranean canals here to transport water. Many are still in use today bringing water from underground springs to Château La Canorgue. In fact, 'Canorgue' means underground aqueduct," she tells me.
As per true organic farming the vines, grown in the gobelet or untrained bush system, are protected naturally by the forests around the estate. The low yield (30hl/ha at most) produces high quality wine. The grapes grown include Syrah, Grenache, Carignan, Mourvèdre, Viognier, Roussanne, Marsanne and Clairette. A third of their award-winning wines are exported, to the US, Japan, Singapore and Hong Kong. These include a sparkling rosé (Bulles de Canorgue),a 100% Viognier, the Coin Perdu (Syrah dominated red blend from 100 year old vines), a prestige cuvée, and Nathalie's own cuvée (Vendanges de Nathalie Rouge), as well as her pet project, a special white wine, Tout Simplement, aged in acacia barrels. She makes just two barrels of this wine each year, with each bottle numbered.
Was it natural for her to slip into the family business? "Not at all," she smiles, "I was actually on my way to becoming an international reporter. I studied in different countries, then one day I realised I really wanted to go home and be a winemaker. So I studied winemaking in Australia and returned. It took time for me to understand my roots were really here. I still love to travel, but I always return. The way I see it, a tree without roots is a dead tree."
Nathalie is also making changes to the winery to simplify processes. Steel tanks are being constructed in the old winery, doors being built which open directly over each tank, so grapes coming into the winery drop into the tanks in the cellars through gravity. The estate is hand harvested, and grapes for rosés and whites are picked at night to preserve natural aromas. Plant essences are used in place of pesticides, and weeding is done manually. "We are known for our fruity delicate wines, so these precautions are important," says Nathalie.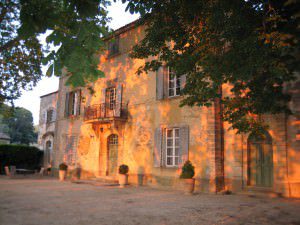 Meanwhile, the Margans attempt to sidestep the hysteria created by the movie and focus on their wines. This means keeping things focused and manageable and staying in touch with their customers by being personally present at the cellar door, answering questions – not about Russell Crowe and the movie – but about their wines.
And holding on to the belief that every year will be a good year.