The France Diaries
It was the last day of our holiday in Paris. The boys had left, and we planned to treat ourselves to a memorable meal before flying out. Of course, we had had a few memorable meals, right from Michelin star restaurants to rustic Provençal terrasse brasseries serving delicious local fare, but this, I thought should be the one which would underline my experiences and feelings about Paris in the summer of 2013.
That's when the name Frenchie came up.
To many, Gregory Marchand's restaurant and neighbouring bar à vins is not news. The restaurant has been around under 3 years, the bar a little less, but in Paris, the hysteria does not seem to have died down.
One report in Le Figaro by François Simon raved that "Mais bon sang de bois, pour se dégoter une table, c'est tout simplement l'enfer. Les portes de prison doivent être plus accueillantes et, au moins, on en connaît le mode d'emploi." ("…to dig up a table, it's just hell. Prison doors should be more welcoming, and at least we know its manual.") The NYT and its ilk across the pond have raved themselves silly as well ("It's like watching professional ballet dancers in a basement club: there's style, sure, but their joy comes from being able to let loose.") And never mind the Eiffel, it seems to be on top of the list of must-sees for most visitors to Paris. At our hotel, the receptionist rolled her eyes and shrugged when I said the word Frenchie. Nonetheless she gallantly tried all day to get us a reservation. With no hope of one, of course. When people wake up early a whole month ahead in the US just to snag an online reservation, what chance did we have for one the same day? Better try elsewhere.
What finally got us to fix on Frenchie's bar was David Lebovitz' blog, which mentioned that while it was all but impossible to score a seat (among the mere 24 available per sitting) at Frenchie the restaurant, it made better sense to try the Frenchie bar à vins right across the tiny cobblestone alley. The food was similar to the restaurant, but not the same. This place took no reservations, and Greg Marchand and his super-young team produced small plates of fascinating flavours paired with a very interesting wine list. Indeed, most often, Greg hopped across from the restaurant to rustle up a dish or two and help in this kitchen. Serve and wash dishes, too, if needed.
So we joined the 20-deep queue of enthusiasts an hour ahead of opening time for the bar à vins, a nondescript small wooden fronted room with high tables (all for sharing – MTR style!) and a tiny, tiny kitchen. We were seated at a table with an Australian couple and 2 American girls. You have to be the convivial sort to enjoy Frenchie's bar: you don't know who you will be seated with, but you might just walk out making new friends. In about 5 minutes the place was packed. Latecomers stood by the bar with a glass of wine, patiently waiting their turn. It could take an hour, even two.
The bar was plain and simple. No flash, no whimsical decor. Just brick wall and wooden tables. The young servers were enthusiastic, zippy, and spoke very good English (Whew and thank heavens! Try rustling up the phrase for pig's cheek in French in a hurry). The menu and wine list are simple printed sheets on a clipboard.
I ordered a coupe of champagne(Vouette & Sorbée, Champagne Extra Brut, from a biodynamic small grower), my husband a glass of Roussillon rosé (Riberach), while we decided on the small plates that we wanted to try. The foie gras royale with fig chutney and nuts – mais oui. The famous Frenchie pulled pork sandwich, why not? The burrata… mmm, sounded interesting. Meanwhile, the wine list had me in a tizzy. With such varied food offerings and flavours, what would work best? Should we do as the American neighbours did and go with repeat orders of a verre of "blush, please" or, stick to what I preferred, a bottle? In the end, it was white that won, a bottle of Pattes Loup Chablis Vent d'Ange 2011 from Thomas Pico, a young Chablis winemaker of promise – the wine ideal for the yet-pleasant Paris weather and the varied food, and where the minerality did not overwhelm the wine's perfect balance and long finish.
The plates were small, as promised, and the saucer of foie gras with figs atop arrived first, just perfect with the champagne and the rustic, dense bread that kept coming. The Chablis held its own with the creamy burrata with peaches and olives, and by which time, we were having such a great time with the food that we gave up on the whole pairing thing and just settled down to enjoy it. The tête de cochon was delicious (my Australian neighbour asked me what is that? and turned glassy eyed when I told her. I fear her opinion on Indian eating habits is forever altered.) The best one was the homard or lobster Breton with tiny tagliolini made with cuttlefish ink, chorizo​​, mussels: a medley of flavours that intrigued and delighted. Marchand is constantly playing with the menu so you may not get next time what you loved this time.
Small plates or not, it was time for us to stop with the 'mains' and head for dessert – though sad to miss out on the charcuterie and veal sweetbreads, other popular menu picks. The famous Frenchie pot au chocolat, unadorned but with a drizzle of liquified salted caramel and passionfruit, was just perfection with the Grenache dessert wine, Domaine Ribiera 'Gren H' from Languedoc, and the blackberry tarte with citron vert worked fine with the Tokaji Szamorodni Edes. yes, more blasphemy – we mixed and matched and tried some of both!
The service wasn't flawless – our homard arrived late and later, as did our dessert wines. I suspect Greg had to step into the kitchen at one point – I saw him in his chef's whites, chequered scarf casually wrapped around his throat, taking across a few orders from the kitchen to the tables. Maybe he made my Breton lobster/ tagliolini too? No matter. We tumbled onto the street, happy and well fed, with the stunning mixture of complex flavours on those small plates – not one repeat or predictable combination – and good wine.
Speaking of the constantly changing wine list -what struck me was Frenchie's affinity for the unusual here too – there was a bit of Loire, a lot of Provence, some more of Languedoc-Roussillon. But not the usual names. Yes, there was a splash of champagne (but no grand marques),a lot of white Burgundy ( Puligny-Montrachet and Bâtard-Montrachet included) and some red Bordeaux at the higher end (Chateau Mouton Rothschild). You could well spring for up to 1000 euro for a top Bordeaux, or be equally happy with something lesser known at 30. There was a small number of select wines from outside of France, clearly chosen for their quality, rather than price, and one got the impression that the not large, yet fascinating wine list was put together with some thought. But here too, it seemed rules were okay to bend, but not destroy. Lots of stuff paired up very well indeed, if somewhat unconventionally, and not all the food had its roots in France (Pulled pork sandwich? Pappardelle? Influences from Greg's time at NY's Gramercy, I hear). Make no mistake, the entire attitude and carefree perfectionism of the experience was all French. At the end of the day, if you had fun with the food and the wine, that's what counted.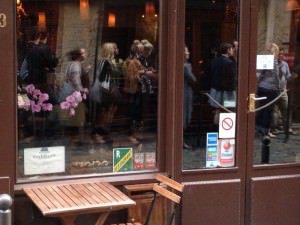 So Frenchie's bar turned out to be a good choice for our last day in Paris. Away from the white tablecloths, hushed whispers, dinner jackets and fine crystal of the French Michelin stars, here was a brave new world of food in France, that last bastion of tradition and classicism. Here, the edges of fine dining blurred but did not disappear, the price was very right, and the quality and taste of the food would make sure that this was not just a quirky fad in the very awe-inspiring food scene of Paris.
PS: Frenchie is the nickname given to Marchand by Jamie Oliver while he was working with him in London. It stuck!
PPS- It was dark, and my iPhone pictures don't do the food justice. Desolée.
Frenchie Bar à Vins
6 rue du Nil
Tél: (+33) 01 40 39 96 19
(No reservations, open 7 to 10:30 pm, Monday to Friday.)